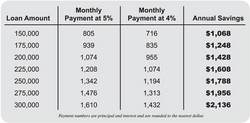 It definitely gives potential home buyers a reason to get off the fence.
Overland Park, KS (PRWEB) March 5, 2009
The savings benefits for a home buyer participating Logan's new program can be dramatic. Through a partnership with United Home Loans, a qualifying buyer can get a 30-year fixed rate mortgage as low as 4%. With an interest rate well below the current market rate, this program can translate to hundreds of dollars in savings on monthly mortgage payments.
"This offer is aimed at people who've been waiting for the rates to drop," said Dave Brown, President of United Home Loans. "It definitely gives potential home buyers a reason to get off the fence."
With the number of homes on the market outnumbering active buyers, Alana Logan is hoping her creative financing program will drive buyers in the door of homes she has listed for sale. If the amount of calls coming into her office inquiring about the program is an indicator of its success, then this agent may have found the formula to draw potential home buyers back into a the market again.
"This new program is creating some excitement. My phone has been ringing off the hook since people started hearing about this. We were still out showing homes at nine o'clock last night. It's been a long time since I've had buyers this motivated," said Alana Logan.
Working with several clients at one time isn't unusual for Logan and her five-person team, The Desty Logan Team with Prudential Kansas City Realty. In 2008, in a market that had many agents worried, she sold an average of one home every three days. A sales number that has her solidly in the top 15 agents in the Kansas City real estate market, and in the top 3% of agents in the nation affiliated with Prudential Real Estate.
"We knew we had to find creative ways to get the homes we have listed for sale to stand out in this market," said Alana Logan. "The idea of saving money every month for 30 years has definitely got the attention of buyers."
The special mortgage offer is in effect for a limited time so buyers interested in the program should act quickly. The special offer applies to approximately 30 specific value-added homes offered for sale by Alana Logan and financed through United Home Loans. Alana Logan has set up a special page on her website http://www.AlanaLogan.com with the details of the program.
About Alana Logan:
Alana Logan is a 14-year veteran REALTOR® in Overland Park, Kansas. She is affiliated with Prudential Kansas City Realty. She has been recognized as one of the Top 25 REALTORS® in the Kansas City area for the past four years by the Kansas City Business Journal and is ranked in the top 3% of Prudential Real Estate agents nationwide. The Desty Logan Team led by Alana Logan has five team members and has been recognized by Prudential Kansas City Realty as the Top Mini-Team for four consecutive years.
###