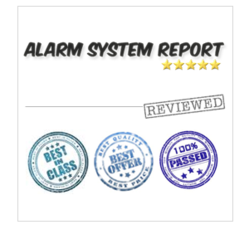 Cellular technology for home alarm systems is superior to other technologies and our experts recommend all consumers look into cellular alarm systems.
San Diego, CA (PRWEB) January 03, 2013
Leading home alarm and security system expert AlarmSystemReport.com announced today that they have made available on their website the annual rankings of best cellular alarm system providers of 2013. The latest report rounds out the company's category specific rankings of best home alarm systems. In addition to best overall alarm system companies, AlarmSystemReport.com also ranks companies in specific categories, such as best wireless alarm system and best do it yourself alarm system.
"The folks at our home office are excited about this latest round of reviews," said AlarmSystemReport.com head of public relations Steve Ordona. "We have a bunch of folks here who have finished hundreds, maybe even thousands, of hours of interviews, fact finding, and review writing. And they're understandably eager to share the results with the public. After getting an advanced look at their findings, I can definitely say that consumers are going to find this information absolutely invaluable in making an informed choice about which alarm system company is best for them."
In recent years, the advancing technological complexity and additional features offered by home security and alarm system companies has made it more important than ever for security system shoppers to have an accurate, unbiased source of information and reviews. AlarmSystemReport.com fills that need by employing independent industry experts to evaluate all of the leading options available to consumers.
"The reason our companies exists is because of the huge consumer demand for information," said Ordona. "Before anyone makes any major purchase, the first place they turn is Google. Retail companies like Amazon have trained shoppers to always check the reviews first. And frankly, it's a good idea."
This year's annual rankings of cellular monitoring based home alarm systems found five nationwide companies that rated at least a four on AlarmSystemReport.com's five point scale. These companies include FrontPoint Security, LifeShield Security, ADT, Vivint, and Protect America. To qualify for inclusion in the rankings, companies must offer some sort of cellular notification or smartphone management plan for their home alarm systems.
At the top of this year's rankings was FrontPoint Security. Even though the company is only five years old, it earned top marks because of its reliable wireless equipment, highly rated customer service, A rating with the Better Business Bureau, strong equipment warranty, and sophisticated cellular monitoring offerings. In second and third place, respectively were Protect America and ADT Security.
More information is available about other leading alarm system companies at AlarmSystemReport.com, along with more expert recommendations and advice. Readers can also find company specific information, such as Vivint, ADT, Protect America, LifeShield Home Security, and FrontPoint security system reviews.
About AlarmSystemReport.com
As one of the leading providers of consumer reviews and information in the home security and alarm industry, AlarmSystemReport.com strives to deliver its alarm system reviews, reports, and recommendations in as objective, fact based, and timely a manner as possible. With both its ongoing company specific reviews and its annual overall and by category rankings, the company's websites ensures that consumers can freely access the expert information they need to make the best choices possible to guarantee their household's security.