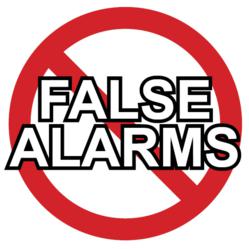 Lowering the number of false alarms can help law enforcement focus on the real emergencies that you may one day need.
San Diego, CA (PRWEB) December 13, 2012
For many people, while alarm systems seem like a great idea for safety and peace of mind, they may be deterred from using them because of the likelihood of false alarms. False alarms can cause a variety of problems for homeowners as well as neighbors, law enforcement officers and the home alarm system company.
If there is an alarm system that often triggers false alarms, neighbors have probably become annoyed with the noise, and law enforcement officers are wasting valuable time and resources. This poses safety risks as well, because if the alarm does eventually go off because of an actual threat, it may not be taken seriously.
The experts at AlarmSystemReport.com, a site dedicated to reviewing the top home alarm systems on the market, have put together a list of tips to help avoid false alarms, and make the security system more effective.
1. Choose the right alarm system. This is probably the most important way to avoid false alarms. For example, if someone owns pets they should work with their alarm technician to design a system that isn't triggered by the movements of pets. It's important to have a system that is designed with the everyday movements and activities of the entire family, including the four-legged family members, in mind.
2. Learn how to operate the alarm system. The majority of false alarms occur because not all of the family members are trained in codes and proper operation of the system. When the security system is installed, be sure that each person who will be using the system knows all relevant codes and the proper way to operate the system. Someone should also need to train occasional visitors, such as sitters and house guests to use the alarm system.
3. Test the alarm system at least once every three months to ensure it is working properly. Weak batteries can be a big reason for false alarms, so ensure the system is in proper working order on a regular basis, not only to protect against false alarms, but also to ensure the system is going to work properly in case of emergency.
4. Secure all doors and windows before setting the alarm. Locking windows and doors may sound self-explanatory, but in fact, it is a big reason for false alarms. If a door is left even slightly cracked it can blow open, which will trip your alarm. It's also a good overall security habit to lock windows and doors before leaving the house, because these serve as prime entry points for thieves.
5. Be aware of the set-up of the alarm system's motion detectors. If something is placed near the path of a motion detector, it may fall into the path of the detector, creating a false alarm. Homeowners should have their alarm technician explain all motion detector paths so that everyone can be sure that no one is unintentionally placing items where they could potentially fall and set off the alarm. Another surprisingly common reason for false alarms is floating helium balloons, so be sure to remove them after a party or holiday, to avoid setting off the alarm system.
About the Company
AlarmSystemReport.com is a website that compiles reviews of top home security systems, including ADT home security reviews and Lifeshield Security Reviews. All reviews are unbiased and informational for consumers considering an alarm system.