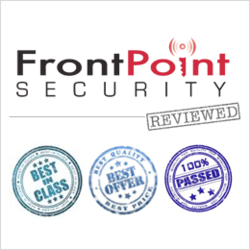 FrontPoint Security simply offered superior customer service and their home security solutions are worth the investment for homeowners looking to seriously secure their homes.
Reston, VA (PRWEB) August 22, 2012
The home alarm system reviews are in and FrontPoint Security has been named as the number one choice for people serious about home security. AlarmSystemReport.com has finished updating its home security rankings, and FrontPoint Security has completely dominated the competition in all categories. They've also outmatched others in key areas such as: the availability of new technology, customer service, and even in pricing.
How Were These Companies Rated?
AlarmSystemReport.com employs home security experts to independently audit all of the top home alarm system companies on a regular basis. These experts rate each company in key areas such as: customer service, technology advancements, pricing, and monitoring capabilities.
Typically, the big companies all have similar price points and technologies, with the defining factor coming in the critical area of customer service. Recently however, FrontPoint Security has dominated on all fronts.
Advanced Technology
FrontPoint is one of the few companies to offer a system which uses cellular monitoring technology to provide protection against intrusion, fire, and medical issues. On top of this, AlarmSystemReport.com found that FrontPoint is the only company to offer 100% cellular monitoring in conjunction with advanced interactive features, home automation, and remote access.
Using FrontPoint's more advanced systems, a user can turn their alarm on and off, change security codes, view cameras, and even change the thermostat from their smart phone. Apps for the Blackberry, the iPhone, and Android-based phones have been developed so that homeowners will always have full access to every aspect of their home's security at all times.
Price Point
AlarmSystemReport.com found FrontPoint to have the most versatile and economically viable home monitoring packages. Every FrontPoint system is customized, so consumers can buy just what they need, and nothing more.
DIY Options
In addition to a fair price on the latest systems, FrontPoint also offers many options for the do-it-yourself homeowner. People looking for do it yourself home security systems will find that FrontPoint has many options available to them. In fact, FrontPoint is one of the few companies that offer DIY home alarm systems with cellular monitoring.
Customer Service
The experts at AlarmSystemReport.com had very good things to say about FrontPoint's customer service team. In addition to this, AlarmSystemReport.com found that this company had zero BBB complaints and nothing but positive feedback from social sites such as Angie's List and Yelp.
To see where your home security company ranks in relation to FrontPoint Security, visit AlarmSystemReport.com and check out our FrontPoint Security reviews.
###