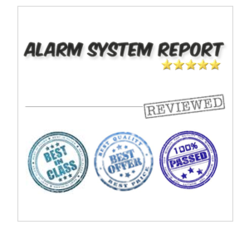 We're looking to help consumers choose the best alarm system for their home by eliminating the noise that companies put out there to confuse consumers.
Washington, DC (PRWEB) October 16, 2012
Protection1 was recently reviewed by the home security experts of AlarmSystemReport.com. This company met AlarmSystemReport.com's strict minimum requirements and was given a full review by the independent experts AlarmSystemReport.com employs for its rankings.
The home security experts found that Protection 1 had many great home security solutions to offer their customers. They were impressed by Protection1's customer service, pricing, and wireless capabilities. The experts found that Protection1 had fantastic wireless home alarm systems to offer their customers. This is important because many other companies have fallen behind in this category. Because of this, Protection1 was able to secure a spot within AlarmSystemReport.com's general reviews as well as their wireless system reviews.
How The Review Process Works
Each year, AlarmSystemReport.com hires experts to secretly audit the top home alarm system companies. They'll test all of the solutions from each particular company and will report their findings to the owners of Alarm System Report. Protection1 was found to have a diy alarm system, a wireless system, and even a cellular system. As a result, the experts had to review and rate each particular system. This company also offers monitoring packages in multiple areas, so experts had to be employed in a wide variety of areas as well.
AlarmSystemReport.com knows that different areas may provide different service to their users, so they make sure to test a few different areas from each company. This gives AlarmSystemReport.com the ability to rank company's by their service in each state as well as by their overall service. It makes them a more complete alarm system review site that can provide unbiased reviews in a wide variety of areas.
Once a company has been reviewed, they'll stay within the rankings until the website does their reviews again. AlarmSystemReport.com likes to do their reviews often and will remove any companies that fail to meet AlarmSystemReport.com's requirements. They also do an annual alarm system review, so people know that the site will never be completely out of date.
After visitors read the reviews on AlarmSystemReport.com, they can then go ahead and get quotes from all of the top companies without ever having to leave the site. This is done by clicking on the "compare quotes" button and filling out a short form. The form only takes a minute to fill out and it can save visitors up to 35% on their next alarm system purchase.
To take advantage of AlarmSystemReport.com's special pricing, please visit their website.