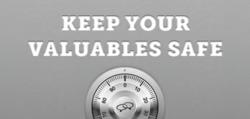 Choosing a quality safe is one of the best investments to secure valuables beyond the installation of a security system.
Washington, DC (PRWEB) February 01, 2013
When it comes to home safety and security, it's often the case that there can never be too many precautions taken. While the best way to protect a home, family and property is to have a top alarm system, such as Lifeshield Security, it's also a good idea to take security a step further in the form of a home safe. A home safe can house a number of incredibly valuable items, such as family heirlooms, jewelry, cash and documents, so that even in case of break-in or emergency, these items will have an extra amount of protection.
Before selecting a home safe, it's a good idea to look at personal needs as well as logistics, and find a safe that is going to work best for the items being protected.
The security experts at AlarmSystemReport.com created a list of guidelines consumers can consider before making the purchase of a home safe. AlarmSystemReport.com is a website featuring reviews of security and alarm systems, including cellular alarm systems, wireless alarm systems and DIY alarm systems.
1. Decide whether the safe will be used to offer fire, water or theft protection. Some safes are designed to specifically offer protection against only one of these concerns, while others are designed to protect against all three. Most safes have fire ratings, which tell the consumer how long the safe can withstand fire and flames without combusting, so this is one of the most important considerations for many safe buyers. If fire is a consideration, it's often best to find a safe that has at least an hour-long fire rating.
2. Determine the size of items that will be going into the safe prior to making a purchasing decision. The size of a standard home safe is 8''X10"X10", but an individual may want a smaller or larger safe, depending on what will be stored and where the safe will be located. For people looking for versatility or a safe that can be easily moved from location to location, it may be a good idea to consider a slightly smaller safe.
3. Decide between a portable or installed safe. Some safes are meant to be portable, while others can be bolted to a wall or other location within the home. If a safe is going to be portable, it should be of a size and weight that is easily carried by the adults located in the household.
4. Choose between a key lock and a combination lock. It is often recommended that a safe be equipped with a combination lock, because keys can often be lost or forgotten. Combination locks are more mistake-proof, and the code can be recorded in an off-site location, for added protection.
5. Consider the price of a home safe. Safes can run in a variety of prices, so budget is an important consideration. For many people, it may be best to give up some space in order to get a higher quality safe.
About the Company
Alarm System Report is a website that provides free, unbiased reviews of security system companies and equipment. Reviews feature safety and security ratings and pricing and security comparisons.