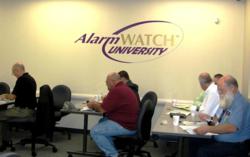 These once "exclusive" technical and sales trainings for alarm security dealers were only available through the AWU, next to our facility. Now, we'll expand them to dealers in other states who want the same competitive advantages in the industry.
(PRWEB) December 31, 2011
AlarmWATCH, Inc., a Maryland-based security business partner and one of the largest UL-certified central monitoring stations serving independent alarm dealers nationwide, will take its custom 'AlarmWATCH University' (AWU) workshops on the road in 2012 to give more security dealers new competitive advantages.
As the last days of 2011 wind to a close, U.S. security dealers are gearing up for another year of challenges to protect their business and residential clients from emergent threats such as fire, burglary, computer hacking and personal identity theft. AlarmWATCH, Inc., best known for its 'out-of-the box' and innovative security offerings and best business practices, will expand its sales and technical trainings to dealers in Virginia, Ohio, Indiana, Kentucky and other states.
"Our industry changes rapidly and so do the needs of our dealers and end users," said Guy Kline, V.P. of Sales and Marketing for AlarmWATCH, Inc. "These workshops deliver a one-two punch for many types of security companies and vertical industries who want to diversify their offerings. For the past few years, mid-Atlantic dealers saw a great benefit from our trainings and expert industry advisors to increase their monthly recurring revenue (RMR) and up sell their products and services. They told other dealers about the programs, who in turn asked us to expand on them. These once "exclusive" technical and sales trainings were only available through the AWU, adjacent to our facility. Now, we'll expand them to dealers in other states who want the same competitive advantages."
Nearly one thousand security dealers in the U.S. rely on AlarmWATCH, Inc. for its state-of-the art monitoring facility, responsive customer care team and uniquely different sales and operational strategies.
Through trainings at the AWU, new and seasoned security owners and their sales and technical teams keep abreast of the latest sales techniques, the most recent remote web access, video surveillance and VOIP solutions and best business practices to effectively run their operations. Courses include new product trainings, by invited distributors and manufacturers, as well as presentations from industry consultants who specialize in security sales, business management and key practices necessary to dealers' success in today's market. Dealers will benefit from a comprehensive array of business and marketing services available through AlarmWATCH, Inc. They can also attend fun networking events and competitions designed to spar new business growth, including the annual Protect-a-Thon football challenge, which will expand in the coming year.
In January 2012, AlarmWATCH kicks off their road show with a triple header full-day training in Hunt Valley, Maryland to help dealers improve their bottom line. Morning sessions feature Marc Gilbert, a security business expert in financial management and RMR services, who will discuss 'How Healthy is Your Business?' "Marc takes security business owners through a sequence of steps to place value, track and manage their assets and consider how to leverage and maximize their businesses for the day they will retire," said Kline. Over lunch, Brian Villari, a security industry insurer, will educate dealers on a variety of insurance options, relevant to their business. The afternoon session features Donna Morreale, a leading security industry expert who mentors dealers through AlarmWATCH's new Intensive Care Sales Training Program. "Morreale's prescription for success for sales specialists, sales managers and business owners guarantees new sales," said Kline. "This session is packed with information and techniques that dealers can use immediately."
In February, 2012, AWU takes its team to Virginia Beach to introduce new dealers to technical information on DSC's Impassa…the next generation of self-contained security systems and new solutions for cellular and Internet-based communications.
Independent security dealers and those in vertical markets who want to diversify their products and services can contact Guy Kline at 866-500-8808 or via email at guykline(at)alarmwatchinc(dot)com to learn more about all of its AWU courses and business solutions. Alarm dealers are encouraged to sign up to receive the 2012 schedule of AlarmWATCH workshop trainings through e-news alerts at [http://www.alarmwatchinc.com/signup.
About AlarmWATCH, Inc.
AlarmWATCH, Inc. (http://www.alarmwatchinc.com) is a full service UL-Certified Central Monitoring Station, capable of handling all alarm formats to protect commercial and residential properties from crime and emergent threats. Founded in 1990, the company has developed a solid reputation for its fast response time, distinctive offerings of innovative security products and top-notch dealer support services for the security monitoring industry. With state-of-the-art software and hardware programs and an individualized approach to customer care, AlarmWATCH dealers can ensure optimal security monitoring performance and offer a comprehensive range of security protection products and services unique to each client's preferences and needs. http://www.alarmwatchinc.com/HTML/awu2012.html
###