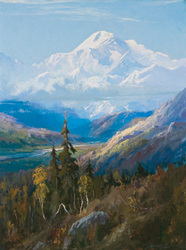 Anchorage, AK (PRWEB) April 19, 2009
This year marks the 50th anniversary of Alaska becoming the 49th state in the union. Communities across Alaska are celebrating with special events, and many businesses are offering related travel specials to entice visitors to come to Alaska this summer. Local travel company Alaska Tour & Travel has joined in by hosting a special photo contest to commemorate Alaska's golden anniversary.
The grand prize for the contest is the limited edition Sydney Laurence print "Legacy of Alaska" depicting Alaska's Mt. McKinley. This special print was signed on May 10th, 2008 by Governor Sarah Palin as well as all seven living former Alaska governors. The print is marked with an embossed seal noting the 50th Anniversary of Alaska Statehood and has current retail value of $1500.
The contest runs through October and is open to visitors and residents alike. Photos need not be taken this year. For additional details or to enter a photo, visit http://photos.alaskatravel.com.
About Alaska Tour & Travel:
Alaska Tour & Travel is based in Anchorage Alaska has been helping travelers plan their Alaska vacations since 1995. The company specializes in custom vacation packages across Alaska, and also operates the Park Connection Motorcoach with summer service from Anchorage to Denali National Park, Talkeetna, Whittier and Seward. For more information on Alaska Tour & Travel visit http://www.alaskatravel.com.
###