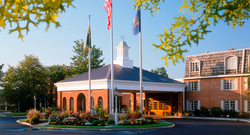 In these economic times, we feel strongly that a travel loyalty program is an important factor to decision makers when making their travel arrangements
Albany, NY (PRWEB) October 7, 2009
The Desmond Hotel has announced the introduction of a new hotel loyalty program. Designed to recognize their best customers and reward them, the concept is a simple one. One overnight stay equals one point, five points equals a $50.00 American Express gift card. The rewards program has no complicated point structure, no blackout dates, and no start up fees. By adding a hotel loyalty program, The Desmond continues to improve on the benefits to their guests.
Traveler Reward members who stay Sunday through Thursday, also receive a complimentary Traveler Breakfast in Simpson's Grille located within the one-of-a-kind Albany hotel. John D'Adamo, General Manager, The Desmond, Albany states, "As an independent property, we feel we need to provide an added benefit to frequent travelers and reward them for their loyalty."
The rewards program is made available to all guests at no charge. "In these economic times, we feel strongly that a travel loyalty program is an important factor to decision makers when making their travel arrangements," says John.
The Desmond offers this program at both their Albany, New York and Malvern, Pennsylvania hotels. Recognized in 2009 by readers of The Times Union Newspaper for the second consecutive year as "Best Hotel", The Desmond Hotel also claims bragging rights of being located in Albany, New York recognized as an "All-American City" in 2009. The award is the oldest community recognition program in the nation.
Guests can sign up at The Desmond Traveler Rewards or are welcome to fill out an application with a front desk representative. The Desmond Traveler Rewards Program is valid on all Albany hotel specials and packages.
About The Desmond:
The Desmond Hotel is located in Albany, NY; this luxurious hotel offers colonial charm and contemporary comfort combined with a business friendly environment featuring state of the art conferencing facilities. For hotel information or to make a reservation, call 1-800-448-3500 or visit The Desmond
###