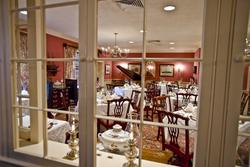 "We are proud of the commitment to excellence from our accomplished staff. Their desire to exceed guest expectations has been recognized and we will continue to provide the levels of service and quality that provide a distinctive fine-dining experience"
Albany, NY (PRWEB) December 10, 2009
Scrimshaw at The Desmond has been awarded the prestigious AAA Four Diamond Rating for the year 2010. Restaurants at this level offer a distinctive fine-dining experience marked by high-quality ingredients, creative presentation, and attentive service.
Scrimshaw is the only fine dining restaurant in New York State's Capital Region to be honored with this prestigious award. "What a well deserved honor for our hotel, restaurant and culinary staff to be recognized as a AAA Four Diamond restaurant," said Michael St. John, Executive Chef.
A ceremony was held on December 1, 2009 in Scrimshaw Restaurant for members of the culinary and service teams to recognize their accomplishment. John D'Adamo, General Manager at The Desmond, awarded each member of the team, a AAA Four Diamond lapel pin. Scrimshaw went through a strict evaluation of 12 essential requirements based on member expectations. The Diamond ratings indicate the extensiveness of food, décor, and personal service.
With its abundant collection of scrimshaw, ship models, and paintings of sailing ships, Scrimshaw Restaurant evokes the grandeur of a sea captain's home. Fine crystal, elegant flatware, crisp linen and fresh-cut flowers set the stage for a memorable evening. Scrimshaw's award-winning cuisine features entrees such as Cedar Plank Salmon, Veal Oscar and Steak au Poivre and offers an extensive American and international wine list.
"We are proud of the commitment to excellence from our accomplished staff. Their desire to exceed guest expectations has been recognized and we will continue to provide the levels of service and quality that provide a distinctive fine-dining experience", said Mr. D'Adamo. Scrimshaw at The Desmond was also honored in 2008 with the presentation of the Achievement of Excellence award from The American Culinary Federation in the category of fine dining.
Scrimshaw Restaurant is open for dinner Tuesday through Saturday at 5:30PM. Listen to the sounds of the historical 1897 Steinway piano on Friday and Saturday nights. Reservations are suggested. Menus can be found at http://www.desmondhotelsalbany.com/wine-and-dine/
AAA's Diamond Rating System is the only ratings system that covers all of North America and one of only two that conducts physical, on-site evaluations. Information about AAA Diamond Ratings and the complete 2010 Four Diamond Award winners list are accessible at AAA.com/Diamonds
About The Desmond:
The Desmond Hotel is located in Albany, NY; this luxurious hotel offers colonial charm and contemporary comfort combined with a business friendly environment featuring state of the art conferencing facilities. For hotel information or to make a reservation, call 1-800-448-3500 or visit http://www.desmondhotelsalbany.com/
# # #