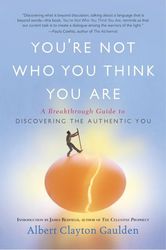 You're Not Who You Think You Are
Phoenix, AZ (Vocus) December 27, 2009
Renowned astrologer, director of The Sedona Intensive and author of "You're Not Who You Think You Are: A Breakthrough Guide to Discovering the Authentic You" (Atria Books; trade paperback edition; $15.00; ISBN: 978-1-4165-8379-0, December 2009) makes 2010 predictions.
Albert Clayton Gaulden's predictions include:
The Senate will pass a Health Care Bill.
Global Warming Builds Support and a Global Initiative will be enacted in 2011.
The movie The Blind Side will be nominated for an Oscar, as well as Sandra Bullock.
Amanda Knox will be Win her Appeal and be freed.
The Joy Behar Show will be a huge success and she will win an Emmy.
A former President will die in 2010.
In his latest book, "You're Not Who You Think You Are", acclaimed author and director of The Sedona Intensive, Albert Clayton Gaulden candidly discusses his own path to peace, and includes powerful, inspiring stories from clients who have used his self-healing and empowering methods. Gaulden doesn't treat his readers as members of a kindergarten class, spouting feel-good philosophies in sound bites and snippets that sound great on talk shows, but rather as independent thinkers who can use his guide to truly explore their innermost feelings.
By dividing "You're Not Who You Think You Are" into "stages," Gaulden deftly lays out a concrete blueprint that will help readers take a hard look at the negative things that have been affecting their lives and help them discover who they really are. His lessons and strategies are extremely effective and cover an intriguing range of concepts, including:

The use of astrology to provide accurate insight into character
How to convert our self-involved ego into a powerful and positive force
The personal question of "God or No God" and Gaulden's conviction that one doesn't need organized religion to find a higher power
The idea that none of us is totally male or female consciousness, and that by not recognizing this leads to the failure of many relationships
Our destruction or salvation lies in our hands. We must change ourselves to change the world
The fact that nobody is going to make you happy but you
To be free of the bondage of ourselves and others, we must heal resentments
"Albert Clayton Gaulden is wise, insightful, straight, and committed to the authentic expression of each and every one of us. Join him on his journey and discover a surprise about your authentic nature." - Debbie Ford, New York Times bestselling author of Why Good People Do Bad Things.
Albert Clayton Gaulden is the founder and director of Sedona Arizona's popular personal transformation program, The Sedona Intensive. The Oprah Winfrey Show and ABC World News have featured Albert and his transforming work. To learn more about Albert Clayton Gaulden, visit: http://www.sedonaintensive.com.
You're Not Who You Think You Are:
A Breakthrough Guide to Discovering the Authentic You
By Albert Clayton Gaulden
Published by: Atria Books
ISBN: 978-1-4165-8379-0
Pages: 219
Price: $15.00 / $19.99 Can.
Pub Date: December 2009
###