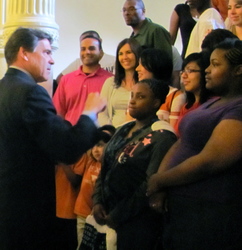 I think this was a great opportunity that I would not have been able to provide, so I am very appreciative of Mercy Street and everybody who supported them to get this opportunity
Austin, TX (PRWEB) March 30, 2011
For 40 teenagers, considered at risk of not going to college, a Spring Break visit with Texas Governor Rick Perry, the Secretary of State, and several state lawmakers, offered just the right spark at the right time. The students, all residents of West Dallas, stopped in Austin as part of the Mercy Street Spring Break College Tour. Dallas businessman Albert Huddleston, a Mercy Street supporter, helped arrange for the Texas Capitol visit as part of his family's Huddleston Community Service Initiative.
Gov. Perry shared with the students the story of how he went from a 13-student school class in West Texas to Texas A&M University, where he graduated in 1972. He credited his college education with helping him see the world as an Air Force pilot, and for eventually leading him into his current role as the 47th governor of Texas.
"Education changed my life just as it will change your life. Isn't that cool? There's nothing you can't do," said Perry.
The students responded positively to the governor's story, as well as words of encouragement from Texas Secretary of State Hope "Esperanza" Andrade, the first Latina ever to serve in that position.
"Dream it and with an education it happens. When someone says you can't do it, don't believe it. Say I'm from Texas and I CAN do it," Andrade said.
The students also met State Rep. Eric Johnson, D- Dallas, who represents the West Dallas area the students live in, as well as Rep. Angie Chen Button, R-Richardson; Rep. Pete Gallego, D-Alpine; and Rep. Naomi Gonzalez, D-El Paso. Rep. Chen presented the group with a flag that has flown over the Texas Capitol and Rep. Johnson handed out souvenir House lapel pins.
The trip was designed to help students see for themselves that a college education is something worth striving for and something they can achieve. In helping arrange for the visit to the state Capitol, Mr. Huddleston worked with the Mercy Street organizers to ensure that the students' time there would reinforce that goal.
The experience was inspirational for high school sophomore Christine Camira. "A lot of people in my family did not go to college. I want to make a difference for my family," Camira said. She and the other 14 to 19 year olds on the trip visited Huston-Tillotson and the University of Texas during their day in Austin and seven other universities across Texas throughout the week of Spring Break.
"I am so excited for them. I think this was a great opportunity that I would not have been able to provide, so I am very appreciative of Mercy Street and everybody who supported them to get this opportunity," said Camira's grandmother, Desser Wellmaker.
According to trip organizers, every student who has previously participated in the Spring Break College Tour has graduated on time, with a graduation rate of 100 percent. In addition, 80 percent of those graduates have gone on to college. As part of his family's Huddleston Community Service Initiative, Albert Huddleston has helped fund the Mercy Street Spring Break College Tour for the past two years. The Spring Break College Tour is the first exposure for many of the students to the world of higher education and to life beyond their home neighborhoods.
Along with their stops at the University of Texas at Austin and Huston-Tillotson, the students visited two other central Texas universities: Texas State University and the University of Texas at San Antonio. In addition, they made stops at Baylor University, Prairie View A&M University, Texas A&M University, Texas Southern University and the University of Houston.
About Mercy Street
Mercy Street is a Dallas-based Christian ministry, which desires to glorify God and transform the neighborhood of West Dallas through the gospel of Jesus Christ. The staff and volunteers of Mercy Street work for community restoration by engaging in mutually transforming relationships with the future leaders of West Dallas. For more information, visit http://www.mercystreetdallas.org.
About Huddleston Community Service Initiative
Founded by Albert and Mary Huddleston, this Dallas-based Christian initiative provides support for communities in need through service and sharing. The Huddleston Community Service Initiative mission is to find real needs and make a positive difference.
###