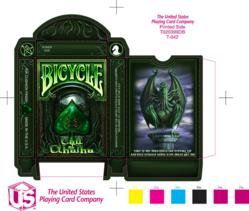 Austin, TX (PRWEB) September 15, 2012
What do Lovecraft, Tentacled Anthropomorphic baddies and Texas Hold 'em have in common? The answer is in the alignment of the stars - or in this case, the cards. Albino Dragon, a tabletop game developer and publisher based in Austin, TX, is bringing the Cthulhu pantheon and mythos to life through customized Cthulhu-themed Bicycle playing cards.
The Cthulhu playing cards are being designed by Shane Tyree, lead artist and graphic designer with Albino Dragon, who has contributed artwork to a number of projects including projects by Wizards of The Coast, Fantasy Flight Games, Alderac Entertainment Group, Ace of Spies & Genegrafter (Albino Dragon), and Dragon's Bard (Tracy Hickman).
According to the recent launch of a KickStarter campaign to fund the Cthulhu playing card project "Shane Tyree… has revered the work of Lovecraft. … Shane has been given carte blanche. Creative freedom has shown us here at Albino Dragon just how deep the rabbit hole goes into the darker corners of Shane's twisted imagination. The result is one of the most beautiful, amazing, and horrifying adaptations of the Cthulhu mythos that we've ever seen."
The team at Albino Dragon has turned to the KickStarter community for funding the Cthulhu playing cards, and pledges will be used to offset the costs of production, printing, and shipping.
"Without KickStarter it would be difficult for us to honor Lovecraft properly and bring such a beloved mythos to its fan base in this form. The funds pledged through KickStarter go beyond production and shipping the Cthulhu playing cards though; they help us provide added perks to our supporters such as signed prints, customized decks, and other stretch goals" said Erik Dahlman, CEO of Albino Dragon.
The KickStarter campaign was launched on 9/13 on KickStarter.com with a target goal of $7,500.00.
"Within the first 4 hours of the campaign we had over 115 backers and had raised more than $3,300.00 in pledges. These Cthulhu playing cards are very close to our hearts because we all have a great love for H.P. Lovecraft's work. We're all very excited to see the completion of this project, and so very thankful for the support and interest we have seen - and in such a short span of time!" stated Dahlman.
The Cthulhu-themed Bicycle playing card deck will feature some of the most powerful beings from Lovecraft's dream-inspired tales including Azathoth, Cthulhu, Dagon and Nyaelathotep. The deck itself will feature hand-drawn art, a unique tuck box, custom joker cards, the traditional Bicycle air-cushion finish that makes the brand so popular, and unique gaff cards for card tricks.
To find out more about the Cthulhu playing cards from Albino Dragon and to lend your support to the KickStarter campaign, visit the Kick Starter Cthulhu page.