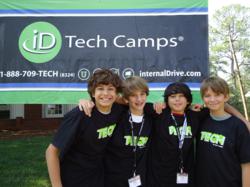 The Albuquerque summer camp will offer weeklong, day and overnight tech programs.
Campbell, CA (PRWEB) February 16, 2012
New Mexico students interested in learning tech skills while exploring a college campus this summer are in luck. iD Tech Camps, the leading summer technology education provider, has recently added a program held at the University of New Mexico. The Albuquerque summer camp will offer weeklong, day and overnight programs where students ages 7-17 can learn how to program iPhone apps, design video games, create web sites, and more.
Classes offered include popular video game design courses such as FPS Game Design – Unreal® Development Kit and web design classes such as Web Design & Flash® Animation. Students create a project showing off their new tech skills, forming the basis for a portfolio of work that can give them an edge on college applications.
Past iD students have used their tech skills outside of camp to do impressive things – like building web design businesses – that help them get into the very universities where they attend camp.
Aside from the New Mexico summer camp, other new summer camp locations being offered by iD Tech Camps include a Massachusetts summer camp held at Amherst College and a Las Vegas summer camp held at UNLV.
ABOUT iD TECH CAMPS AND iD TEEN ACADEMIES
iD Tech Camps is the World's #1 provider of summer computer camps and technology camps for kids and teens with programs held at over 60 elite universities in the U.S. Summer camps are held at Stanford, Princeton, UCLA and other prestigious universities nationwide. Students create iPhone® apps, 2D and 3D video games, websites with Flash®, C++ and Java programs, 3D models and animations with Autodesk® Maya®, digital photography, films, robots, and more. There are also 2-week Teen Academies: iD Gaming Academy, iD Programming Academy, and iD Visual Arts Academy. Visit http://www.internalDrive.com or call 1-888-709-TECH (8324) for more information.
###