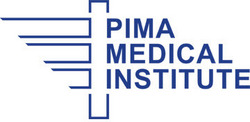 Albuquerque, NM (Vocus) September 1, 2010
Pima Medical Institute celebrated its new Albuquerque career school location on Aug. 25 with a public open house and ribbon cutting ceremony.
The public was invited to visit the Albuquerque campus and connect with current students, enjoy food and beverages, speak with campus representatives and participate in classroom demonstrations that are designed to highlight an example of what students learn in their programs.
Representatives from Congressman Heinrich, Senator Udall and Bingaman, as well as state and local representatives, including Bernalillo County Commissioner Maggie Hart Stebbins, were on-hand to celebrate.
Since 1985, Pima Medical Institute has been Albuquerque's premier medical career school, helping the community prepare for rewarding careers in the health care industry.
The school recently moved into its new location at the Pavilions at San Mateo. The 44,000-square-foot space that previously housed Circuit City has been transformed into a facility designed to foster learning, featuring 21 classrooms and labs complete with state-of-the art medical equipment, three dedicated computer labs, a simulation lab and three study areas. In all, more than 800 students are on campus preparing to become health care professionals in one of nine career training programs.
One of the leading medical career training schools in the western United States, Pima Medical Institute helps prepare students for positions in a variety of disciplines within the health care field. Pima Medical Institute has 13 campuses in seven states, including two locations in Colorado.
About Pima Medical Institute
Established in Tucson in 1972, Pima Medical Institute (PMI) is one of the premier medical career colleges in the western United States. PMI is a private, family-owned, accredited school dedicated to providing students with a well-rounded education that offers theoretical classroom studies coupled with real world training on-site at medical facilities. Pima offers a wide range of certificate and associate's degree programs, such as medical assistant, radiography, veterinary assistant and pharmacy technician.
PMI operates a total of 13 campuses in seven western states, with locations in Albuquerque; Tucson and Mesa, Ariz.; Denver and Colorado Springs, Colo.; Seattle and Renton, Wash.; Las Vegas; Houston; and Chula Vista, Calif. For more information and a complete list of programs offered at each of our campuses, visit http://www.pmi.edu or call 1-888-442-5998.
###