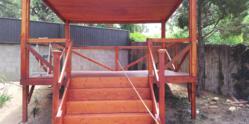 Albuquerque, NM (PRWEB) June 21, 2013
One Call Services understands the importance of maintaining the original architectural details when remodeling a home. "A home addition and remodel should be cohesive with the original structure, so the new project doesn't look like an afterthought," says Braxton Haze, owner of One Call Services.
This home remodeling company has recently completed work on a historical renovation in Albuquerque. They expanded a bathroom and built a mother-in-law suite on the property. "Our priority was to maintain the historical spirit of the home, this was our biggest challenge," says Braxton.
The bathroom remodel included an addition, increasing the bathroom by 100 square feet. A custom shower with tile and a glass enclosure, along with an updated faucet and shower head was installed increasing energy efficiency. One Call Services also put in new tile flooring, a textured ceiling and a fresh coat of paint throughout the bathroom.
A mother-in-law suite was built on the property, adjacent to the primary residence to accommodate additional family members. The 600 square feet studio was a new construction project on the premises. The open floor plan includes a bathroom and bedroom. This dwelling also maintains the historical integrity of the original structure.
In addition to improving home interiors, One Call Services has also been busy improving the exterior of a home for a single mom in Santa Fe. They installed a 1500 linear and 6 foot high, coyote fence. Coyote fencing is a popular choice in the New Mexico area, it is made from Spruce-Fir latillas, (peeled sticks or limbs), tied to an all steel welded framework. The small tree limbs, maintain a rustic and natural look to the home and property while providing safety and privacy.
One Call Services also installed a newly constructed pergola. The pergola is a simple overhead structure that creates a focal point in the yard while providing shade for the homeowners. The pergola also provides an area for seating to extend valuable living space to the outdoors.
To learn more about One Call Services, please call (505) 907-6857 or visit their new website: http://www.albuquerquehomeremodeler.com.
About One Call Services, Inc.
With 25 years of combined experience, a high rating with the Better Business Bureau, and a GB98 license, About One Call Services is equipped to tackle any job, whether it's a large commercial project or simple home repair. They offer lifetime guarantees on roofing, windows, fencing, and decking. Their projects have included a remodeling project for Univision, The Language Learning Center of Albuquerque, and they are an approved vendor for CBRE, the largest property management company in the world. One Call Services' wide range of services includes residential and commercial remodeling, home repair, restoration, fencing, decks, tiling, windows, doors, resurfacing, and much more. They serve Albuquerque, Edgewood, Rio Rancho, Los Lunas and the surrounding area.