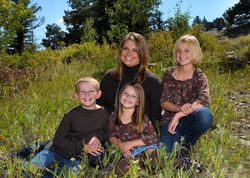 We have a unique perspective as family photographers and we bring out our client's personalities so that they can express themselves through our portraits
Albuquerque, NM (PRWEB) October 16, 2009
Blue Sky Images, Albuquerque Photographers, is the industry leader for providing Albuquerque family photography, wedding photography, senior class photography, event photography, commercial and architectural photography and action sports photography. Blue Sky is New Mexico's premier newborn and baby photographers. Its owners Vickie and Ryan Fellows have launched a new advertising campaign for the fourth quarter 2009.
Albuquerque photographers Vickie and Ryan Fellows own and operate Blue Sky Images. As owners, they take all of the photography and have a unique way of bringing out everyone's personality through their photography. "We have a unique perspective as family photographers and we bring out our client's personalities so that they can express themselves through our portraits," says Vicki Fellows. "We think that it is important that our client's get the best so we do all of the photography ourselves and we have always experienced a 100% satisfaction rate," she says.
Vickie and Ryan have a large family and they are the proud parents of three beautiful girls who are all involved in sports and school activities. Vickie and Ryan are strong community advocates and volunteer regularly, offering their time and services for free. Vickie participates in the "Now we lay you down to sleep" program and volunteers her compassionate services at all hours of the day or night to grieving families. Ryan just finished running Albuquerque's Greek Festival as a 100% volunteer gift to the community. Vickie and Ryan's unique perspectives and experiences in life allow them to be the best photographers available and the only clear choice for your portraits.
Vickie publishes the Albuquerque Family Photography Blog to educate consumers about different photography options.
Vickie and Ryan have photographed some of America's most powerful and interesting people throughout the years including: President George Bush, Steve Forbes, Vice President Al Gore, Jamie Lee Curtis, Povaratti, Laura Bush, several New Mexico Governors, Heather Wilson, Vice President Cheney and many more. If these people put their trust in Blue Sky Images so can you.
The Blue Sky Images Studio is set in a new building and has many different photography areas and backdrops. They use the latest equipment and photos can be viewed real-time on large flat screen monitors. Touch-ups and enhancements are available. A photo shoot can be turned into a multi-media slide show or DVD in minutes. All developing is done in-house and Blue Sky also does expert framing for all photography. The studio is comfortable for all and animal friendly.
Some of Albuquerque's best photography happens outside and Vickie and Ryan do many shoots in action or in nature. "It would be a shame not to use some of the world's most beautiful landscapes for the background of the perfect picture," says Ryan Fellows. Blue Sky Images is the preferred photographer for Hyatt Hotels Tamaya Resort outside Albuquerque, Qwest Dex, Lovelace Healthcare and other large community businesses.
Blue Sky Image's customers have had many compliments over the years such as this one: "We have used Blue Sky Images/ Vickie and Ryan Fellows for all of our family photograph needs for many years. Kids, babies, action shots, family portraits, skiing and animals.. They have done a wonderful job and they are good people. They have a fantastic business and the new studio is amazing. We could view all of our pictures right after the shoot! They even developed all of the pictures we wanted and framed one special one for us. We told our relatives where we had the photography done and they went and ordered the shots they wanted. I highly recommend this business and these wonderful people to anyone," says another satisfied customer.
Blue Sky Images is providing a new package for Albuquerque's 2010 Senior Class pictures.
Blue Sky Images serves Albuquerque's surrounding areas in New Mexico: Rio Rnacho, Corrales, Bernalillo, Los Lunas, Belen, Bernalillo, Cedar Crest, Farmington, Placitas, Grants, Gallup, Edgewood, Socorro and Santa Fe.
###