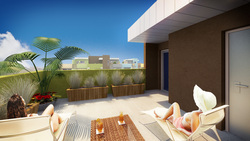 "We expect to see people get very creative with their private roof top gardens. The idea and reality that you can walk out on to your lawn on your roof is very fun."
Albuquerque, NM (PRWEB) November 23, 2009
Downtown Albuquerque's largest urban green development Elements Urban Townhomes has created outdoor living space utilizing the roof tops of the 72 urban town homes that are designed to achieve LEED Gold certification.
"The roof top design lets you enjoy entertaining with the option of an outdoor kitchen and the roof itself is constructed to handle an urban garden. " Thom says. Travis Thom, owner and qualifying broker of Venture Realty Group, and Joe Corso of Venture Realty Group handle the sales and marketing of the green development. "We expect to see people get very creative with their private roof top gardens. The idea and reality that you can walk out on to your lawn on your roof is very fun." Says Corso.
Travis Thom says that the roof top gardens have a greater part than just entertainment. The roof's will act to fight against the heat island effect that dense urban areas emit when buildings and hot roof tops absorb and release the suns heat. "The goal is to create a cooler temperature in the entire development with the collaboration of everyone's private gardens." Says Thom. Elements Urban Townhomes offers several floor plans each with 3 interior living levels and a fourth level with a private deck and room for a roof top garden. Each home is pre-wired for solar panels and comes with a standard feature solar hot water system. The first floor level has stained concert flooring acting as a a foyer entrance/study with a one car garage on the backside.
The living room area, kitchen and one half bath are located on the second floor, with the master bedroom, second bedroom, full baths and laundry room on the third floor. "Currently there are no other Albuquerque homes for sale or developments that are similar to Elements Urban Townhomes." says Thom. The purchase of energy efficient Albuquerque homes can result in receiving generous tax credits from the state and has great money saving potential because of the green energy efficient construction used. The green construction creates exceptional value in both the sleek urban design and it's environmentally conscious green built concept.
The unit D model will serve as a model home, with 1,270 square feet of living space and will feature a full outdoor kitchen on the roof top garden. All units will have both electric and gas hook-ups pre-installed on the roof top level so buyers can install their own outdoor kitchen to suit their taste and style. The town homes are 40% more energy efficient than traditional construction. They include water wise landscaping and smart home features like their automatic sensor kitchen faucet. Interior construction features include insulation made from recycled glass bottles, low VOC paints, and carpet to provide a healthier living environment for the new homeowner.
Each home is 47 feet high offering 360-degree views of downtown Albuquerque. The urban town homes range from $279,000 to $489,000 and are located in downtown Albuquerque at Second St and Silver. To see a virtual tour of the development and more information visit http://www.Elementsabq.com or contact Travis Thom at http://www.VentureNM.com for project details.
Travis Thom and Joe Corso of Venture Realty Group specialize in Albuquerque real estate new construction and manage the sales and marketing for several Albuquerque condo and Townhome developments in Nob Hill and downtown. Visit http://www.venturenm.com for more about Venture Realty Group or call Travis Thom 505-980-9128 or Joe Corso 702-354-2041.
###