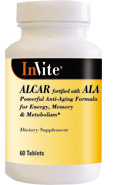 Our pharmacists and scientists have demonstrated with ALCAR with ALA, a product that restores and protects our bodies through a sound nutritional delivery system
New York, NY (PRWEB) August 28, 2012
InVite® Health, a leading nutraceutical firm headquartered in New York City, today announced the introduction of a memory enhancement product - ALCAR with ALA. A growing concern among baby boomers, business professionals and others with stressful lives is the toll taken on their mental clarity. Responding to this need, InVite® Health has formulated a daily tablet featuring key nutrients necessary for creating and channeling how the body uses energy. Working in tandem, these nutrients can metabolize calories into a fuel that assists in the restoration of cells, increasing good health and overall vitality.
Improving energy in all cells has been shown to have an anti-aging effect on the body and brain. ALCAR is the accepted abbreviation for Acetyl-L-Carnitine, which is an amino acid. When we eat foods, especially fats, they can be metabolized into a metabolite that fuels every cell of the body. ALCAR delivers this fuel into the numerous power-plants in each of the body's trillions of cells.
ALA is the abbreviation for Alpha-Lipoic Acid which is a naturally occurring compound that we synthesize in small amounts. ALA is a powerful antioxidant for the entire body but it is especially effective in the brain, nerves, and liver. ALA works as a partner with ALCAR because ALA is needed to create the fuel that ALCAR carries into the cellular power-plants. This function makes the entire body and many processes of the body much more efficient while often restoring or improving memory and other body functions demonstrating signs of aging.
"Through sound nutrition it is possible to heal our bodies and in part, reverse the aging process," comments Steve Kornblatt, President, InVite® Health, Inc. He adds, "Our pharmacists and scientists have demonstrated with ALCAR with ALA, a product that restores and protects our bodies through a sound nutritional delivery system," he notes. "Our customers are reporting improved health and a modulation of debilitating symptoms associated with many health conditions they previously faced," Kornblatt concludes.
Among the benefits and features reported by InVite® Health's Alcar with ALA supplement users are: improved memory, increased mental energy and clarity, healthier blood pressure ranges, improved liver health and less fatigue. Many also report a decrease in debilitating symptoms associated with diabetic, sexual dysfunction, stress and anxiety disorders.
For more than a decade, InVite® Health has been recognized as an innovator and leader in the nutritional supplement industry. Offering a comprehensive line of the finest quality vitamins, herbs, minerals, specialized formulas and personal care products, the Company has built a loyal and growing consumer base. Their solid reputation has been founded on ensuring the highest standards in nutraceutical research and product development. The firm is also committed to providing their customers with service excellence and assistance with charting and maintaining their path to wellbeing.