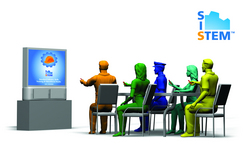 Austin, Texas (PRWEB) October 1, 2008
The SISTEM training platform by Alchemy Systems now includes new customer service training for both group-based training and individual training through e-learning. The Customer Service Library from Alchemy focuses on preparing job seekers for the National Retail Federation's (NRF) Customer Service Certification.
The multimedia courses in the SISTEM Customer Service Library train entry-level learners on the fundamentals required for NRF customer service certification and include Introduction to Customer Service, Using Math at Work, Communicating with Your Customers, Getting to Know Your Company and Products, Working with Customers, Assisting Customers with Disabilities, Dealing with Difficult Customers, Providing Customer Support, Solving Problems for Customers and Working with Multiple Customers. All courseware is interactive to ensure the comprehension and retention of the material for each trainee and does not require the use of an instructor. Most importantly, SISTEM enables job seekers to prepare for the NRF Customer Service Assessment in a fraction of the time a typical two-week training session takes, with an instructor.
Alchemy's focus on customer service training for SISTEM is a continuation of their efforts to enhance the quality and quantity of service delivery options for workforce centers nationwide. For over 5 years, SISTEM has helped workforce centers produce more qualified job candidates and increase overall placements, while improving staff efficiency and reducing training costs.
Jasen Jones, Executive Director at the Workforce Investment Board in Southwest Missouri recently commented on the release of SISTEM's new Customer Service library. He said, "Customer service as an industry sector is one of our targets for volume and impact in Southwest Missouri's economy. What's even more impactful for us is that all seven of our industry sector targets will benefit from job candidates with a strong customer service acumen."
SISTEM is an innovative training platform that consists of computer-based software, hardware and multi-lingual courseware. It enables organizations to train and educate entry-level workers and job seekers on safety, compliance and mandated workplace skills in a highly efficient manner. SISTEM's multimedia courses are multi-lingual, available in English and Spanish, and can be taken individually as an e-learning course or in a group using color-coded remotes. Through the SISTEM web-based Learning Management System (LMS), all responses are automatically documented for instant electronic reporting.
To qualify for the NRF's National Professional Certification in Customer Service, candidates must be over 16 years old and pass a 70-question assessment. The assessment is only given through the NRF and evaluates the candidates' reactions to customer service scenarios via video and audio presentations. Once a candidate has passed the assessment and has been approved for certification, they will receive a certificate, a label pin and their name listed in the national certification database.
About Alchemy Systems:
Alchemy Systems, based in Austin, Texas, provides innovative technology and multimedia training solutions for production personnel and entry-level job-seekers. Courses are delivered and managed through a unique group-based training platform or as individual e-learning courses through a web-based learning management system. Alchemy's course catalog includes highly-interactive educational media and covers topics such as job search, career readiness, industrial safety, mandated training, basic supervision and job success skills, as well as industry-specific training courses. More information about SISTEM and Alchemy Systems is available at SISTEMtraining.com.
###