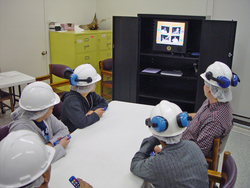 Our customers are experiencing outstanding effects from their ability to deliver and manage effective critical-skills training at an affordable price using the SISTEM training platform
Austin, TX (PRWEB) August 21, 2008
Alchemy Systems, the leader in multimedia technology training for the workforce, today announced a new release of its group-based training platform, SISTEM. Alchemy's latest version, SISTEM 3.3, further enhances training and compliance management automation with new features and added courseware for production employees and job seekers in industries throughout North America.
The SISTEM computer based training (CBT) platform is an all-in-one training solution that can accommodate small or large groups of trainees (up to 150) via individual hand-held remotes. SISTEM comes with over 90 interactive, industry-specific courses that test employee comprehension, increase their retention and have been proven to boost productivity through engaging multimedia training videos and group-based interaction. SISTEM includes an integrated web-based Learning Management System (LMS) that automates the documentation process and provides a central location for training records.
With the new customer-inspired release, SISTEM 3.3 now features an improved administrative interface and a visually integrated help system for increasing the overall ease of use. Customers are also now able to create company and/or job-specific courses using any Microsoft Windows multimedia file, as well as, create assessments and surveys using the web-based LMS. Once created, all courses and assessments can be delivered either online as e-learning or as group-based training using color coded remotes.
SISTEM helps food processors and manufacturers advance their compliance training to meet Global Food Safety Initiative (GFSI) standards and in turn, helps prevent prevalent food safety recalls. Nine of the top fifteen meat producers including Tyson, Smithfield Foods Inc., Sysco Corporation, National Beef Packing Company, Hormel Foods Corporation, OSI Group, Sara Lee Corporation and American Foods Group, are using SISTEM to deliver GMP and HACCP training (key elements in the GFSI) and to automate their training documentation process. With SISTEM 3.3, these companies are now able to create courses that are specific to a production worker's job description, test the employee on their comprehension and then automatically document the results. Each employee's training results are accessible via the web-based learning management system and can be downloaded into various electronic formats and printed for verification during critical audits necessary for GFSI compliance. Furthermore, multiple versions of the same SISTEM course allow managers to rotate often repeated courses to keep employees engaged, and because SISTEM courses are provided in both English and Spanish versions, training is consistent for multi-lingual environments.
The same SISTEM components are being used in workforce centers across the country to teach job seekers the skills they need to be attractive to business. In the last 2 years, Missouri Career Centers alone have utilized SISTEM to train more than 28,000 job seekers on over 68,000 courses. SISTEM's e-learning capabilities give job seekers the ability to train online, which workforce centers use to expand service delivery options while also helping their clients combat high gas prices. With the release of SISTEM 3.3, Alchemy is also introducing a new Customer Service Certification library that will enable job seekers to learn the competencies for successfully completing the National Retail Federation's (NRF) customer service exam.
New courses that come with SISTEM 3.3 include Emergency Preparedness, Ergonomics, Forklift Safety, Good Manufacturing Practices (GMP): Maintenance Personnel, Hand and Power Tools, Hearing Protection, Introduction to Food Allergens, and Proper Handling of Food Allergens. Other courses, including GMP: Effective Hand Washing Techniques, GMP: Hygiene and Sanitation, Keeping Foods Safe from Harmful Bacteria, Overview of Hazard Analysis and Critical Control Points (HACCP), Preventing Food Contamination, and Preventing Food Borne Illness, have been updated by Alchemy to reflect changes in regulations. With SISTEM 3.3, courses such as ADA, FMLA, Hazard Communication and Violence in the Workplace are now available in two versions for added training versatility.
To date, Alchemy has delivered over 1.5 million SISTEM courses for food and industrial safety compliance training in over 40 states and provinces within the US, Canada and Mexico. "Our customers are experiencing outstanding effects from their ability to deliver and manage effective critical-skills training at an affordable price using the SISTEM training platform," said Jeff Eastman, CEO at Alchemy Systems, "With better educated employees, employers are seeing improved employee morale, increased productivity and a decrease in turnover."
About Alchemy Systems:
Alchemy Systems, based in Austin, Texas, provides technology and multimedia training solutions for fostering talent development in the global workforce. Courses are delivered and managed through a unique group-based training platform or as individual e-learning courses through a web-based learning management system. Alchemy's course catalog includes highly-interactive educational media and covers topics such as job search, career readiness, industrial safety, mandated training, basic supervision and job success skills, as well as industry-specific training courses. More information about SISTEM and Alchemy Systems is available at SISTEMtraining.com.
###