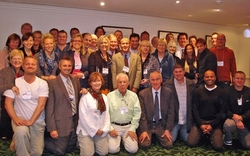 Structured 'interventions' – organised by families or employers of an addict, with a professional specialist – are estimated to get addicts, however reluctant, into treatment in over 92% of cases, Deirdre Boyd
Lancashire (PRWeb UK) November 4, 2010
AIS International is a brand-new organization providing registered drug and alcohol rehab interventionists who perform interventions with professional certification, networking opportunities and a stringent code of ethics. Intervention specialists encounter substance abusers at their most vulnerable. It's therefore important to ensure the interventionist conducts himself with the highest standards of personal and professional integrity. AIS International insures families can trust member rehab Interventionists. Chris Knight from RapidInterventions.co.uk is a founder member of AIS.
Leading US intervention specialists John Southworth of Southworth Associates and Ken Seeley of Intervention 911 met up with the Association of Intervention Specialists and to create an international branch with board registered members. The Sloane Club in central London was chosen as the venue, and the training took place starting the 15 October. Venue, flights, accommodation, refreshments and other expenses were generously funded by 'founder sponsors'. The Association of Intervention Specialists (AIS International is constructing its website) International Intervention Credentialing Board BRI-I or BRI-II certification for membership to AIS
Chris Knight from RapidInterventions.co.uk, an intervention specialist and founder member of AIS says,"I have been performing interventions for a number of years and probably the first here in the UK. We must be ethical, trained and qualified. the client's well-being is at stake. Families and employers will be able to hire and have the confidence in us to carry out powerful interventions." Chris has worked with ITV's Jeremy Kyle filming a live intervention as well as working with a number of production companies.
The AIS International Board consists of:
President: Rosemary Clough (pictured)
Interim co-vicepresidents: Dorte Tommerup (European Parliament)
Secretary: Joanne Griffin
Treasurer: Bill Stevens
Ethics chair: Jeanette Whitehead
Membership chairs: Richard Cross, Chris Knight
Site chair: Daniel Gerrard
Programme chair: Daniel Farnham
PR: Sarah Graham
Historian: Dr Robert Lefever
Ambassadors/members at large: Deirdre Boyd, Randy Grimes, John McCann
Consultants/mentors: John Southworth Associates and Intervention911.
Chris Knight (also managing director of Panacea Healthcare, RehabClinic.org.uk) goes on to say "I learnt so much, it has reinforced the knowledge and faith of helping clients identifying their rock bottoms. Our work in the field of drug and alcohol intervention will only benefit from the sense of unity felt by us all. To compliment that work, I envisage rehab and treatment centres working with interventionists and understanding what we do. We all felt proud to be part of the founding group of AIS International and look forward to serving where we can. At the foremost of my mind to help train drug and alcohol addiction clinics in UK and Europe to receive clients of this nature as the denial is so much stronger, furthering family work with the long term processes and acceptance "
Mark Styles of Pierpoint treatment centres say's "As a group of rehab centres that specialise in working with families to help them achieve full-family recovery from the devastation of a family member in addiction, we are pleased to be working with Chris Knight, Rapid Interventions and AIS UK. We passionately believe in delivering life-long recovery through our programmes, but all too often families approach us to treat their relatives, when it is too late and the physical damage is too far progressed with their relative being close to death or dying before they can 'persuade' them into treatment. An intervention means that a family or employer can take the immediate life-saving action that they so want to, but for which they are themselves not equipped (usually having spent many years trying to persuade their relative to get help). We are committed to becoming a leading Reception Treatment Centre for people entering rehab through Intervention and our team at Pierpoint, which already delivers some of the most effective family recovery in the UK, has undertaken specialist training and continues to develop the specialist skills and strategies to work highly effectively with people being admitted into drug and alcohol treatment clinics through an intervention. We applaud the high ethical standards by which Chris Knight and Rapid Interventions work and are excited about how many hundreds more people's lives and families can be saved by the expansion of AIS and the availability of Intervention in the UK and Europe."
If you or you know someone who is in trouble with drugs or alcohol and they need help, contact an intervention specialist at Rapid Interventions. Pick up the phone and call 0800 9558 900 (UK Only) Tel: +44 (0)333 444 0611 (International) or go to Rapidinterventions.co.uk. Chris knight said "Through our freephone numbers and websites we give confidential advice to alcoholics, addicts and their families and practical help in finding treatment. This ranges from matching clients to the most suitable clinic places to guiding them through the complex and time-consuming process of applying for funding. Because I have been through the system myself and know the ropes, I can help people to get the treatment they desperately need but may not be capable of securing themselves. Our organisation has access to specialist rehab clinics throughout the UK and worldwide"
###