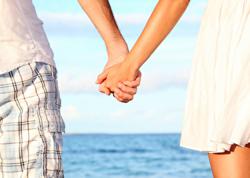 First dates do not have to be an excuse to drink, especially if someone is overcoming a recent alcohol problem. Focus on the conversation and the other person, not the alcohol.
Amsterdam, NY (PRWEB) February 14, 2013
Saint Jude Retreats would like to wish everyone a Happy Valentine's Day, as well as provide tips on how to enjoy a first date without alcohol. According to an article on paramuspost.com an online dating service called, WhatsYourPrice.com reveals that first dates on Valentine's Day is a new trend. In fact the companies 2013 data has shown over 27,733 New Yorkers in Manhattan paid for the online dating service for Valentine's Day dates. Brandon Wade, the CEO and Founder of WhatsYourPrice.com quotes, "Valentine's Day is as important a holiday for singles as it is for couples."
This Valentine's day may be a first date for many, but first dates can be hard for someone who is overcoming an alcohol problem. Especially if the person has used dates in the past as an excuse to drink excessively to feel comfortable or relaxed.
Dr. Joy Browne radio personality and clinical psychologist and author of "Dating For Dummies" suggests that people overcoming alcohol problems should not feel any pressure to drink on the first date. Dr. Joy quotes, "People should never drink if they don't want to, but they also do not have to mention they are newly out of rehab. If your date questions you about it, tell them that you simply don't want the alcohol to distract you from focusing on only them."
The Saint Jude Retreats Program, which is an alternative to alcohol rehab, gives people the power to choose to drink or not. While the program focuses on self control and choice based methods, it also helps people understand why they are drinking in the first place, and why they are making the change. Saint Jude Retreats offers tips on how to enjoy a first date without alcohol.
Stand behind the choice not to drink, without giving away too much. --Remember why you made the decision to stop drinking. You made a choice to change your life, so keep in mind that you can enjoy a great dinner and conversation without alcohol. If your date continuously questions you on why you don't drink, or even pressures you to do so, this might be a red flag that this person is not the one for you, especially if you have no desire to be in a drinking environment and your date seems like they frequently socially drink. There is no need to go into reasons why you do not drink on a first date, just politely decline. Secondly, if you give into the pressure and make the choice to drink the person might think you enjoy it as much as they do, which may lead to issues down the road. Make a first impression and stand behind your choice not to drink.
Suggest a different type of date or location other than dinner.-- If you think that you are going to feel uncomfortable declining alcohol on a first date, suggest a different type of date such as a walk through a park or mini golf, if you are in a cold weather climate a museum tour, a local theater show, a cup of coffee, or even a sporting event may be an option. A first date is truly about getting to know the other person, pick a place where you can sit down and talk and enjoy yourself.
Be yourself without alcohol.--The best type of date is someone who is truly themselves. Maybe in the past you have used a date as an excuse to drink excessively, or to become less quiet or shy, but now you know how to become social without alcohol. Think of creative ways to open up to your date. Talk about the things you have in common such as traveling, jobs, education, food etc. Show your date the best qualities you have and be real with the person from the start.
This year enjoy Valentine's Day and feel no pressure to drink, remember it's not the reason why the date is happening in the first place, it's all about finding a love connection. Have questions on dating tips or advice? Call Dr Joy Browne at 855-99-DrJoy Monday-Friday 12:00-3:00 PM EST or visit:http://www.drjoy.com/. Her book "Dating for Dummies" is available for purchase on Amazon.
The Saint Jude Retreats is a non-disease, non-treatment based drug and alcohol program implementing proprietary methodology called Cognitive Behavioral Education (CBE). The program is the only effective alternative to alcohol rehab and drug treatment centers and is currently 85% more effective than treatment. The program is endorsed by internationally acclaimed professionals and addiction research authors such as Prof. Emeritus David Hanson, PhD; Prof. David Rudy, PhD; Dr. Joy Browne and the late Joseph Vacca, PhD, among others.