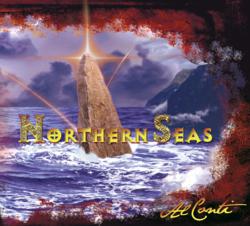 Conti's instrumental music is always vivid in scope and very strong in content. He is quite adroit at creating musical compositions that do for the aural what film does for the visual...
Los Angeles, CA (PRWEB) October 21, 2011
The compositions of musician Al Conti continue to gain a global following by tapping into fans' desire for thematic albums expressed through richly-textured and emotive music. Northern Seas, Conti's latest album, was named one of Amazon.com's Top 10 New Age Albums, recently reached Astreaux Radio's Audience Top 5, and is featured as "the most relaxing music of 2011" on Spa Buzz's current Buzz Bus Tour. Additionally, it is included under Best Album: New Age on the 54th Annual GRAMMY® Awards ballot issued last week.
Conti will make a rare personal appearance for fans in New York's Central Park on the morning of Saturday, October 29th, from 10 – 12 pm, in conjunction with the Buzz Bus Tour. The artist will conduct meet 'n' greets at the Buzz Bus near the Meadows Recreation Center. The artist will be signing CDs, and the event is open to the public.
Critical acclaim for Northern Seas included music reviewer RJ Lannan, who wrote "Conti's instrumental music is always vivid in scope and very strong in content. He is quite adroit at creating musical compositions that do for the aural what film does for the visual." Meanwhile, in a more recent music review, Chris Spector of Midwest Record Recap added "…Conti takes his compositions and his pals to plumb the depths of the Scandinavian waters…strangely calming while playing tunes to Loki and Odin, this is for the malcontent adult that doesn't want his relaxing sessions to be too tame…"
Conti has applied his new age/world fusion composing style to tell the tales of The Iliad, a Middle Eastern Heroine () and the Norse gods (Northern Seas). A history-lover curious about other cultures, this award-winning multi-instrumentalist (who also mixes and produces his albums) has already begun his next adventure, set in a distant place and time to be announced in late 2012.
"An artist's life experiences are woven together to become creative events that in turn grow into a project that chronicles the artist's journey," says Conti. "As in past projects, it is the concept that chooses me, rather than the other way around."
Chosen as one of Amazon's Best New Age Albums of 2010, it also reached No. 2 on the Zone Music Reporter (ZMR) Radio Airplay Top 100 Chart. It also received three ZMR Lifestyle Music Award nominations, for Best World Album, Best Contemporary Instrumental, and Best Album Cover. Additionally, the song "Dans för Loki (Loki's Jig)" was nominated for a Celtic Radio Network award. Music tastemakers at The Borderland proclaimed "Northern Seas just has to be one of the best albums of the year!"
Northern Seas is Conti's fourth album and contains eleven original new age/world-fusion pieces that draw on ancient Norse mythology while weaving in modern sensibilities. As with his previous award-winning album, Scheherazade, Conti has taken well-known tales, this time from the mystical lands of the north that originated during Scandinavia's Viking Age, and woven music around themes and images. By combining ancient and exotic instruments (kantele, Jew's harp, hurdy gurdy, pump organ, accordion, and tribal drums) with modern ones (piano, violin, cello and both acoustic and electric guitar), Conti has created a mythical landscape that will carry the listener to another time and place, one cloaked in veils of mist when the gods ruled over harsh Nordic lands.
Conti's third album, Scheherazade (Shadowside 2008), tells a timeless tale of strength and courage, as the daring heroine Scheherazade saves the women of her kingdom and conquers the king's heart. The album employs the alluring sounds of guitar, piano, dulcimer, exotic hurdy gurdy, sitar, tribal drums and other percussion fill this musical landscape rich in Middle Eastern instrumentation, including guitars by Andre' Maquera. Scheherazade won Best World Album in ZMR's Lifestyle Music Awards 2008, and headed many radio Top 10 and "Best of" lists.
Moving into ancient times, Conti's Poeta (2007) uses ethnic instruments, violins and ambient vocals to follow Homer's Iliad, traveling through musical peaks and valleys on Orpheus' unrelenting quest to retrieve his lost love. The track "Quest for Orpheus" received a "Best of 2007" Award for Outstanding Music from Mystic Soundscapes Radio, and was used as part of National Public Radio's fundraising efforts in 2007.
Conti shares, "Creating an album is always an arduous artistic experience for me. There is a lot of thought, planning and experimentation that goes into creating arrangements I can be happy with. The feeling of the ancient past and an ever constant present managed to merge within this work, once again, marking another chapter in my musical journal. I thank each and every listener for walking with me through this artistic adventure and encouraging me to create more."
Selections from the top airplay album Northern Seas can be heard on hundreds of over-the-air radio stations and shows around the world as well as on satellite and cable-distributed channels including Sirius/XM, Music Choice and Galaxie/CBC and online on Pandora and other internet radio stations.
Al Conti's music can be purchased online from retail sites such as Amazon.com and CDBaby.com, as well as from dozens of digital download sites such as iTunes and Napster.
To hear music clips and to learn more about Al Conti, visit the newly redesigned website at http://www.alconti.net.
Public Relations:
Beth Ann Hilton
The B Company
bethhhilton(at)theBcompany.com
Mobile: 310-560-8390
Management:
Kevin Manion
kmanion(at)alconti.net
P.O. Box 8446
Essex, Vermont 05451
Tel.: 917-232-6418
###