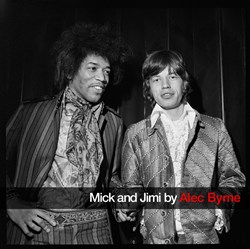 Not bad for a collection that was until only recently sitting in file boxes.
Los Angeles, CA (PRWEB) November 27, 2013
Nearly a year after his breakout one-night-only exhibition "Rock & Roll Time Capsule," Alec Byrne is releasing a new batch of his rare and previously unpublished images from the Golden Age of Rock & Roll.
Kept in storage (in his garage!) since the late 1970s, Byrne's archive, which he shot in London as a freelancer, first for the British music press, then for his own agency, contains a Who's who of the late '60s and early '70s rock scene.
The Beatles, the Rolling Stones, the Who, Jimi Hendrix, Bob Marley, the Doors, David Bowie and Bob Dylan are just a few of the legends on show at last year's Dec. 1st exhibition of 20 beautiful 20x24 prints at Smashbox Studios in Los Angeles.
Rare images of Led Zeppelin, Roy Orbison, the Who, Fleetwood Mac, the Stones, Frank Zappa, Jimi Hendrix and Bob Marley are among the new releases, available for the first time as limited edition fine art prints through über EDITIONS just in time for the holiday shopping season.
While his larger prints regularly fetch thousands of dollars, Byrne has decided to issue a special 8x10 series, limited to an edition of only 10, of some of his more popular photos, starting at $100. These will be signed and numbered limited edition, archival pigment prints, and will be available only through Dec. 9th.
Celebrating a year that began with his one-night-only show, which was attended by over 1,000 people, Byrne is pleased that his photos are finally getting their due after close to 40 years in "seclusion." In 2013, his images were used in the booklet artwork for the Jimi Hendrix rarities collection People, Hell and Angels; displayed during the Rock & Roll Hall of Fame induction ceremony; and added to the permanent collection of the Portland Museum of Art. Not bad for a collection that was until only recently sitting in file boxes.
The new images will be available on the über EDITIONS website beginning Friday, Nov. 29.
Images for online press: http://www.rockandrolltimecapsule.com/2013-holiday-press-images/
PASSWORD: rockphotos
Media requests contact: Drew Evans / über EDITIONS / 818-863-6260 / drew(at)uberarchives(dot)com.