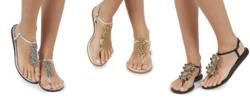 Sydney, NSW (PRWEB) November 14, 2012
A clever new Sydney-based footwear label, Aleeyas, has come up with what must be the perfect summer sandal idea ever – interchangeable uppers encrusted with stunning Swarovski layered designs.
The chic new label has just launched its exquisite range of handcrafted leather sandals encrusted in sparkling Swarovski crystal and jewelled uppers that can be swapped to suit every look or occasion.
Aleeyas offer two sandals for the price of one and the chance to change up summer style at will.
Swapping to summer sandal style is easy. Simply go to the Aleeyas website and choose a favourite colour – black patent, glimmering silver or sparkling champagne. Then select the fashion personality that most suits– Desire, Glamour or Romance.
In no time a pair of Aleeyas luxurious leather sandals will be delivered for free complete with two must-have interchangeable upper designs created from exquisite Swarovski crystals and jewels.
A spare gleaming upper can be carried taken from its secure pouch anytime and swapped to seamlessly transform feet from casual chic to evening elegance in an instant. And what woman can resist festooning her pinkies with dazzling Swarovski crystals?
Chic footwear this flexible is destined to become a wardrobe staple and Aleeyas has already attracted interest from fashion commentators around the world.
Perhaps that's because a pair of Aleeyas is more than just a stunning-looking sandal. It's also the pure expression of a simpler, more elegant contemporary lifestyle wrapped in one very nicely packaged gift set.
RRP: $225.00
http://www.aleeyas.com
For more media information and high-resolution images, please contact:
Sharmeen Arain - sharmeen@aleeyas.com / +61 413 458 784