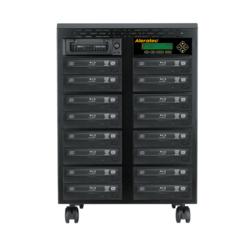 We are proud to be able to offer this enhanced line of Blu-ray/DVD/CD disc duplicators featuring the latest in duplication technology, advanced features and increased capacity
Chatsworth, California (PRWEB) May 31, 2012
Aleratec today announced the next generation of its Blu-ray/DVD/CD Tower Duplicator family of products. This standalone line of industrial-grade disc duplicators features increased storage space and, in some models, increased duplication capacity. These enhancements are coupled with the latest technology, all at a more affordable price.
The 1:4 Blu-ray/DVD/CD Tower Duplicator SA, 1:8 Blu-ray/DVD/CD Tower Duplicator SA and 1:15 Blu-ray/DVD/CD Tower Duplicator SA each feature cutting-edge 12X Blu-ray writers as well as a generous 2TB removable hard drive. This is twice the HDD storage space of the previous generation of Blu-ray/DVD/CD disc duplicators.
Duplication capacity has also increased on two out of three disc duplicator models. The previous generation included 3-target and 7-target options. The new generation includes models that duplicate up to 4 and 8 discs at a time when duplicating from the units' 2 TB hard disk drives. This results in a 33% and 14% increase in disc duplication capacity for these two units respectively, all without changing the disc duplicator model's size or weight. For disc-to-disc jobs, these units can still duplicate up to 3 and 7 discs at a time.
Even the port used to access the built-in hard drive on these new duplicators has been upgraded from USB 2.0 to the latest SuperSpeed USB 3.0. In PC-Connect mode, users can simply drag and drop disc image and label files directly into the disc duplicator and be running disc duplication jobs in no time.
If needed, the internal hard drive in each disc duplicator can be removed and stored in a safe location. It has a keyed lock for additional data protection.
Finally, this disc duplicator family also features a simple, intuitive interface with four Fast Keys that take you directly to the most popular disc duplicator functions.
"We are proud to be able to offer this enhanced line of Blu-ray/DVD/CD disc duplicators featuring the latest in duplication technology, advanced features and increased storage space and duplication capacity," says Perry Solomon, Aleratec's President and CEO. "And even with these upgrades, we've been able to reduce prices on this generation."
The Aleratec line of Blu-ray/DVD/CD Tower Duplicators SA is available for shipment now from Aleratec's dedicated resellers and distribution partners:

1:4 Blu-ray/DVD/CD Tower Duplicator SA (Part 260204) – ERP $1,159
1:8 Blu-ray/DVD/CD Tower Duplicator SA (Part 260205) – ERP $1,899
1:15 Blu-ray/DVD/CD Tower Duplicator SA (Part 260206) – ERP $3,799
The full line of Aleratec solutions and accessories is featured at AAFES, Adorama, Amazon.com, ANTOnline.com, B&H Photo Video, Barnes & Noble, Best Buy, Buy.com, CDW, Circuit City.com, CompUSA.com, Data Vision, Dell, HP, Insight, J & R, Kmart, Mac Connection, MacMall, Micro Center, Office Depot, PC Connection, PC Mall, Quill, RadioShack, RitzCamera.com, Sears, Tech Depot, Tiger Direct, and Wal-Mart in addition to other leading US retailers. Government and Education customers may purchase from Government and Education Specialists including AAFES, B&H Photo Video Gov, Best Buy for Business Gov/Ed, CDW-G, EnPointe, GovConnection, GOVPLACE, GTSI, Insight Gov, PC Mall Gov, SARCOM, Shi.com, Softchoice, SoftMart, Sparco.com, TIG, and Unisys. All products are available to resellers in the U.S. through D&H Distributing, Ingram Micro, and Tech Data; in Canada through Ingram Micro Canada and Tech Data Canada; in Latin America and the Caribbean through Tech Data Miami.
The Aleratec 1:4 Blu-ray/DVD/CD Tower Duplicator SA (Aleratec P/N 260204, D&H Distributing SKU 260204, Ingram Micro SKU NV3978, Tech Data SKU 0216B0)
The Aleratec 1:8 Blu-ray/DVD/CD Tower Duplicator SA (Aleratec P/N 260205, D&H Distributing SKU 260205A, Ingram Micro SKU NV3977, Tech Data SKU 0215B0)
The Aleratec 1:15 Blu-ray/DVD/CD Tower Duplicator SA (Aleratec P/N 260206, D&H Distributing SKU 260206A, Ingram Micro NV3976, Tech Data SKU 0214B0)
About Aleratec Inc.
Aleratec creates "Prosumers' Choice" professional-grade duplicators for hard disk drives, USB flash drives, flash memory and optical discs (BD/DVD/CD), as well as optical disc printers, blank media, disc shredders, disc repair and related accessories, at consumer-friendly prices. The company's commitment to quality and its customers has produced products which regularly win industry accolades for their innovation, reliability and ease-of-use. For more information, please visit http://www.Aleratec.com or contact us toll free at 866-77-ALERATEC (866-772-5372). You can also follow Aleratec at Blog.Aleratec.com, Facebook.com/Aleratec, Twitter.com/Aleratec and on YouTube.com/Aleratec.