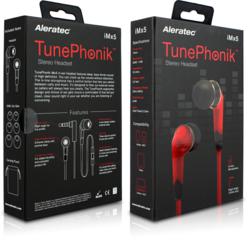 We focused a lot of attention on sound quality and ergonomics and added practical features we think users will appreciate.
Chatsworth, California (PRWEB) June 25, 2013
Aleratec Inc., a leading developer and manufacturer of mobile and tablet accessories, introduces the TunePhonik iMx5, a high fidelity, ergonomically designed in-ear headset for smartphones, tablets, or other portable devices. Designed for users who want comfortable-fitting, high quality headphones at a reasonable price, the TunePhonik iMx5 reproduces low, mid and high frequencies with remarkable clarity and includes features typically only seen on much higher priced headsets.
"There are many players in this category so we knew the TunePhonik iMx5 had to stand out," says Perry Solomon, Aleratec President and CEO. "We focused a lot of attention on sound quality and ergonomics and added practical features we think users will appreciate."
Aleratec's TunePhonik iMx5 headset includes passive noise reduction technology that dramatically cuts down on distracting ambient noise, and for the greatest convenience, the TunePhonik iMx5 headset includes in-line microphone control that allows users to switch between calls and music. To ensure the most comfortable fit, the TunePhonik iMx5 includes small, medium and large ear gels instead of a "one size fits all" approach that can feel awkward or even painful at times. "We included a lot of high-end features without compromising wearability and durability," concludes Solomon. "We want customers to wear these headsets but not be aware that they're wearing them."
Other features of the TunePhonik iMx5 include:

Right-angle 3.5mm jack for easy connection and durability
Flexible, tangle-free cord
Convenient carrying case
The TunePhonik iMx5 fits standard 3.5mm jack plugs and can be used with iPhones, MP3 players, tablets, portable DVD players and laptops. Available at Amazon.com, the TunePhonik iMx5 retails for $14.99.
About Aleratec Inc.
Aleratec designs and manufactures high-performance products acclaimed for their reliability and ease-of-use.
For the consumer marketplace, Aleratec produces high-quality, innovative accessories for smartphones and tablets. We strive to offer our customers accessory products of the highest quality to enhance their mobile device experiences.
For the commercial and government market, California-based Aleratec manufactures and sells professional-grade duplicators for hard disk drives, USB flash drives, and BD/DVD/CD discs, as well as disc printers, blank media, shredders, disc repair and related accessories.
For more information, please visit http://www.Aleratec.com or contact us toll free at 866-77-ALERATEC (866-772-5372). You can also follow Aleratec at Blog.Aleratec.com, Facebook.com/Aleratec, Twitter.com/Aleratec and on YouTube.com/Aleratec.