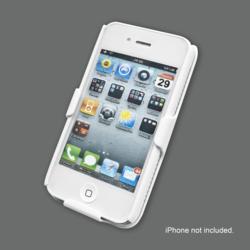 Giving our Twitter followers the opportunity to win the value-added 2-in-1 Combo Cover Holster is a great way to spread the message that Aleratec is the Prosumers' Choice
Chatsworth, CA (PRWEB) July 26, 2012
Aleratec today launched a 14-day giveaway to promote its Twitter presence, which provides updates on Aleratec products as well as duplicator and technology industry information. One Aleratec 2-in-1 Combo Cover Holster for the iPhone 4/4S will be given away each day from July 26 to August 8.
The 2-in-1 Combo Cover Holster consists of a protective, rubberized, white case and a sturdy holster that also works as a stand. Users can position their iPhone in portrait or landscape orientation. This allows for convenient hands-free viewing or chatting.
To be eligible for a chance to win a 2-in-1 Combo Cover Holster, entrants simply visit the online entry form. There, they will be asked to provide some basic information, agree to the terms/privacy policy of the promotion and send out a tweet containing a message about the giveaway.*
Aleratec will draw one winner at random each day. Winners will be notified by email.
"Aleratec designs and manufactures high-performance, easy-to-use products," says Perry Solomon, Aleratec's President and CEO. "Giving our Twitter followers the opportunity to win the value-added 2-in-1 Combo Cover Holster is a great way to spread the message that Aleratec is the Prosumers' Choice."
*No purchase necessary. Entrants must be at least 18 years of age or older and be able to provide a shipping address within the United States. Other terms and conditions apply. Visit the online entry form for access to full terms and conditions.
The full line of Aleratec solutions and accessories is featured at AAFES, Adorama, Amazon.com, ANTOnline.com, B&H Photo Video, Barnes & Noble, Best Buy, Buy.com, CDW, Circuit City.com, CompUSA.com, Data Vision, Dell, HP, Insight, J & R, Kmart, Mac Connection, MacMall, Micro Center, Office Depot, PC Connection, PC Mall, Quill, RadioShack, RitzCamera.com, Sears, Tech Depot, Tiger Direct, and Wal-Mart in addition to other leading US retailers. Government and Education customers may purchase from Government and Education Specialists including AAFES, B&H Photo Video Gov, Best Buy for Business Gov/Ed, CDW-G, EnPointe, GovConnection, GOVPLACE, GTSI, Insight Gov, PC Mall Gov, SARCOM, Shi.com, Softchoice, SoftMart, Sparco.com, TIG, and Unisys. All products are available to resellers in the U.S. through D&H Distributing, Ingram Micro, and Tech Data; in Canada through Ingram Micro Canada and Tech Data Canada; in Latin America and the Caribbean through Tech Data Miami.
About Aleratec Inc.
Aleratec creates "Prosumers' Choice" professional-grade duplicators for hard disk drives, USB flash drives, flash memory and optical discs (BD/DVD/CD), as well as optical disc printers, blank media, disc shredders, disc repair and related accessories, at consumer-friendly prices. The company's commitment to quality and its customers has produced products which regularly win industry accolades for their innovation, reliability and ease-of-use. For more information, please visit http://www.Aleratec.com or contact us toll free at 866-77-ALERATEC (866-772-5372). You can also follow Aleratec at Blog.Aleratec.com, Facebook.com/Aleratec, Twitter.com/Aleratec and on YouTube.com/Aleratec