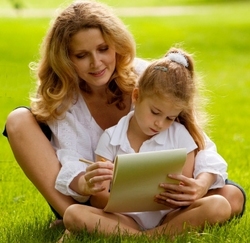 New York, NY (PRWEB) April 1, 2010
Two mothers create new technology to help lost, missing and injured children. AlertID has a patent-pending system (SaaS) for everyday protection of children.
According to the National Center for Missing and Exploited Children, a child is lost or seriously injured every 2 seconds. That's why founders, Keli Wilson and Eve Fritsche, searched for better ways to protect children. Traditional solutions had good intentions, but were too slow or inadequate. During the critical hour of an emergency, parents often cannot find or do not have access to their child's pictures and critical health and safety information.
"What if your child gets hurt at school, and you're away on a business trip? How would parents be able to help, or get information to the appropriate people fast? AlertID bridges the gap to get current information to the right person to protect children," said Eve.
AlertID is the first system to provide parents with protection and assistance in case their children are ever lost or injured, even when they're not there. It's a totally private and secure system that immediately gives police, first aid personnel and hospital staff all the vital information they need. It also immediately informs parents and their most trusted friends through text, email and phone if there is ever a problem.
"Our goal for 2010 is to give away 1 million online child health & ID kits completely free," according to Keli. "The system integrates with law enforcement and health care providers, but most importantly it helps protect children and gives parents peace of mind."
For more information and to receive a free kit, please see the website at http://www.AlertID.com
About AlertID:
AlertID is everyday protection for children. Parents have far greater peace of mind knowing that schools, day care centers, babysitters, friends and good samaritans can get help for their children when they're not there. And they will always have all the information they need at their fingertips for their child's health and protection.
AlertID's Online Child Health & ID Kits are a free service available to all parents in the United States through schools, law enforcement and family friendly corporations everywhere. Contact Keli if you'd like to distribute these free kits in your area or through your business.
###