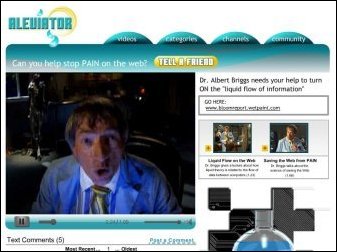 At The Conservation Fund, we've spent the past 20 years protecting nearly 6 million acres of lands for hiking, climbing, swimming and more
Morristown, NJ (PRWEB) July 12, 2007 -–
Starting today, consumers can log on to the Internet and fight P.A.I.N. in a novel way by assisting the fictional scientist Dr. Albert Briggs and his cohort, journalist Evelyn Bloom, on their entertaining quest to restore the flow of information online. Through his research, Dr. Briggs uncovers a vast conspiracy by P.A.I.N. (People Against Internet Networking) to shut down critical Web sites used for social networking. But P.A.I.N. is moving too fast for Dr. Briggs and Bloom to stop it alone. They need help!
This innovative online game was developed by Bayer Consumer Care, the makers of ALEVE Liquid Gels, as part of the company's recent launch of this new product.
To begin, consumers can log on to http://www.aleviator.com. Participants will assist Dr. Briggs and Bloom by viewing video clues and interacting with a series of social networking and other Web 2.0 sites that are under attack by P.A.I.N. P.A.I.N. can only be eliminated by clicking the hidden "ON" buttons found on the impacted Web sites.
"We are excited to making this fun and engaging online game available to consumers," said Jay Kolpon, vice president of Marketing and New Business Development, Bayer Consumer Care. "We want participants to have an enjoyable and memorable experience that also leaves them feeling like they have made a difference in doing their part to fight pain."
That difference is through a charitable donation to be made by the company for each person who completes the journey to fight P.A.I.N. online(1). The donation will be made to the Conservation Fund, an organization committed to conserving the environment for America's future generations.
"At The Conservation Fund, we've spent the past 20 years protecting nearly 6 million acres of lands for hiking, climbing, swimming and more," said Kathryn Brown, vice president of marketing and communications at the Fund. "We're pleased to partner with Bayer, the makers of ALEVE Liquid Gels, as this product can make it possible for more people with pain to get outside and get active."
This online journey through several Web 2.0 properties will be available through mid-August.
For more information and to begin your own online adventure, visit http://www.aleviator.com.
About ALEVE and ALEVE Liquid Gels
Since its introduction as an OTC product in June 1994, ALEVE has been used by millions of Americans as a safe and effective pain reliever for more than a decade. ALEVE Liquid Gels, launched in March 2007, were developed to provide liquid-fast relief. With the convenience of all day relief with just two pills, ALEVE and ALEVE Liquid Gels can be used for the treatment of aches and pains due to minor arthritis pain, muscle aches, backache, headache, toothache, menstrual pain and pain associated with the common cold. Always read and follow label instructions.
ALEVE and ALEVE Liquid Gels are available at food, drug and mass retail outlets nationwide. For more information, visit http://www.ALEVE.com.
About Bayer Consumer Care
The Consumer Care Division of Bayer HealthCare LLC, is headquartered in Morristown, N.J. Bayer's Consumer Care Division is among the largest marketers of over-the-counter medications and nutritional supplements in the world. Some of the most trusted and recognizable brands in the world today come from the Bayer portfolio of products. These include Bayer® Aspirin, ALEVE®, Alka-Seltzer Plus®, Bactine®, RID®, Phillips'® Milk of Magnesia, Midol®, Alka-Seltzer®, One-A-Day® multivitamins and Flintstones™ vitamins.
Bayer HealthCare, a subsidiary of Bayer AG, is one of the world's leading, innovative companies in the health care and medical products industry based in Leverkusen, Germany. In 2005, the Bayer HealthCare subgroup generated sales amounting to some 9.4 billion Euro. Bayer HealthCare employed 33,800 people worldwide in 2005. The company combines the global activities of the division's Animal Health, Consumer Care, Diabetes Care and Pharmaceuticals. Since January 1, 2006 the new Pharmaceutical Division consists of the former Biological Products and Pharmaceutical Division and now comprises three business units: Hematology/Cardiology, Oncology and Primary Care. Bayer HealthCare's aim is to discover and manufacture products that will improve human and animal health worldwide. The products enhance well-being and quality of life by diagnosing, preventing and treating diseases.
(1) Up to a total of $50,000. Limit one donation per person.
Contact:
Tricia McKernan
Bayer HealthCare
Consumer Care Division
Global Communications
866-683-1126
tricia.mckernan.b @ bayer.com
Dave Schemelia
HealthSTAR Public Relations
212-532-0909
dschemelia @ healthstarpr.com
###