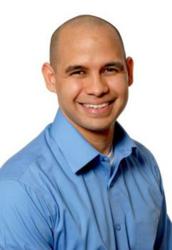 "I want to encourage others to tackle their own fears as I've done tackling mine about public speaking" - Alex Cequea
Fairfield, IA (PRWEB) May 31, 2013
Alex Cequea will attempt to break the current Guinness World Record and will attempt to continually speak from 12 p.m. on Saturday, June 8th to 10 p.m. Sunday, June 9th. The entire event will last approximately 34 hours. The current record stands at 30 hours and 6 minutes.
Breaking a world record for the world's longest speech is an enormous feat in itself, but even more so for someone who was once terrified of public speaking. "I want to encourage others to tackle their own fears as I've done tackling mine about public speaking," said Alex. "I'm fascinated by the resilience of the mind and body, and the lengths humans are able to go to."
For visual aid support, Alex will be using Prezi, an online-based zooming presentation software that is a popular choice among seasoned presenters in venues such as TED. Prezi is a sponsor of the event, and will also help to promote it.
Other sponsors include Viva Vitamins, Miami Public Speakers, and Speaker Sponsor, an innovative service that matches speakers with sponsors. Also, in case Alex needs it, Red Bull kindly offered to send a whole lot of Red Bull.
"We support Alex and his brave attempt to break the world record", says Speaker Sponsor CEO and fellow speaker Julie Austin. "We'll be rooting for him all the way."
Breaking a Guinness World Record is #3 on Alex's bucket list of "things to do before I die." The speech will cover all of Alex's life, including his family's incredible journey from poverty in Venezuela to realizing the American Dream. The event fittingly takes place on Alex's birthday.
The event will be streamed live on http://www.publicspeakingguy.com . Viewers will be able to ask questions via Alex's Twitter feed (@alexcequea), and Alex is allowed to answer them during several short Q&As sprinkled throughout the 34-hour presentation.
Alex Cequea is available for interviews and can be reached at 319-541-0205 or alex(at)publicspeakingguy(dot)com