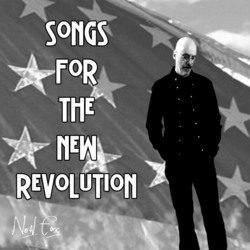 He is not afraid to say what needs to be said and does so in such elegant ways.
Boca Raton, FL (PRWEB) December 1, 2009
With protest rallies and marches on Washington reminiscent of the 60s, Neal Fox was inspired to write, Songs for the New Revolution. It's music for freedom fighters, Alex Jones' Fans, and Ron Paul supporters.
And it just might get his phone tapped.
These songs are not simple patriotic expressions, nor are they party-line politics. One podcaster commented, "He is not afraid to say what needs to be said and does so in such elegant ways." Fox is strictly independent. He supports Ron Paul, the Constitution, demands truth about 9/11, and doesn't trust mainstream media to deliver all the facts. His lyrics can be subtle or brutally honest, with a wry sense of humor.
"I call my music socio-politi-pop because it covers social and political issues, but it's also fun. I like to stir things up. Get people talking. Like my videos do."
Fox recently won two film festival awards for his music video about the Federal Reserve, F**k the Fed. The YouTube video spread through the internet getting picked up by Alex Jones and other activists. Following that were interviews on BreaktheMatrix.com and BoldVoices.TV. That's when he realized how many other people share his political views.
Among the nine tracks are songs about the death of freedom, the insidious pervasiveness of psychiatry, and people who never question anything (Sheep). Fox also wrote a tribute to those whose diligence keeps us free: On the Backs of the Few.
Songs for the New Revolution is available for download at http://www.cdbaby.com/cd/NealFox1 for $4.50. This half-price offer is for CD Baby only, and lasts through December. The album is also available on iTunes and other sites with the rest of his music.
Neal Fox is a veteran songwriter whose career includes a charted single, Top Ten Dance Club Hit, music for film and TV, and numerous awards. For bookings, licensing, or to join his mailing list, visit Wire Duck Records, http://www.wireduck.com or Foxalot Music, http://www.foxalotmusic.com.
###