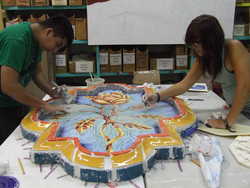 to participate in cultural arts, event and organizations.
Cleveland, OH (Vocus) October 14, 2009
WHO:
Blue Star Contemporary Arts Center
The NRP Group LLC
Texas State Representative Jose Menendez
San Antonio Housing Authority (SAHA)
Coats Rose
Stewart Title
WHAT:
San Antonio artist Alex Rubio and his ARTsmart students will be unveiling three medallions and one large mosaic panel to replace the legendary mural The Virgin of San Juan. A student art show and exhibit will be held concurrently.
WHEN:
Thursday, October 15, 2009 from 5:30 pm to 7:30pm.
WHERE:
San Juan Square Apartment Homes clubhouse, 1938 S. Zarzamora, San Antonio
ADDITIONAL INFORMATION:
Going back to his roots on the westside of San Antonio to bring his special brand of art to residents of the San Juan Square community, celebrated local artist Alex Rubio and three of his ARTsmart students will present an unveiling of their mosaic creations which will adorn San Juan Square Apartment Homes.
Commissioned by The NRP Group, the mosaic pieces enhance the architectural aesthetics of San Juan Square -- a mixed-income property which has replaced rundown public housing -- and support the continuing revitalization of the surrounding neighborhood.
In all, four phases of San Juan Square (totaling over 500 new housing units) will be completed in the coming years, bringing a new sense of pride to residents of this established neighborhood. Rubio's goal is that this particular project "reenergizes the community" and encourages its residents "to participate in cultural arts, event and organizations."
Contact: Michele Yurcich
Phone: 210.487.7878 Fax: 216.584.2509
###