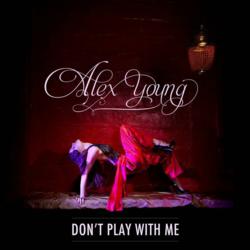 Alex is ready to seduce you to "Do That Dance" – and the song's title signals she means business with its battle cry, "Don't Play with Me!
New York, NY (PRWEB) June 28, 2012
Pop-phenomena Alex Young started out as a regular on Sesame Street, and then shocked the music scene with the release of her debut album "Amazing." Now she's doing it again, with her new single "Don't Play with Me", available on iTunes.
Young has launched a national radio tour with her sassy new single that is sure to excite fans with its ultra-funky, pop-dance beat. Fueled by the success of her earlier releases, "Cold" and "Government Name", Alex is ready to seduce you to "Do That Dance" – and the song's title signals she means business with its battle cry, "Don't Play with Me!" She plans on impacting major cities like New York, Los Angeles, Miami, Atlanta & Chicago.
Musical Director on Lady Gaga's world tour, Kern Brantley had this to say about the pop sensation. "As a musical director, I have been fortunate to work with some of the top female artists in the world such as Beyonce, Lady Gaga, Mary J. Blige, Aaliyah, Monica, and Faith Evans just to name a few. Upon meeting and working with Alex Young, all I can say is here we go again! Alex is the next generation of modern music."
Young's "Pop Power" is undeniable as she introduces us to this new song, a creative collaboration between the artist and rising powerhouse producer SeQuence. It's no surprise that Alex's "Don't Play with Me" quickly landed a spot on MTV.com after she held the #1 spot on mtvU.com for most watched video. Alex teamed up with choreographer Sheryl Murakami for her "Don't Play with Me" video. Sheryl has choreographed for Lady Gaga, Avril Lavigne, Nelly Furtado, Diddy, and was recently honored with a 2011 VMA for Best Choreography on Beyonce's "Who Run the World."
Alex has proven that she is a true entertainer. Her powerful presence exploded onstage with her opening for Cee Lo Green at the Mahaffey Theater in St. Petersburg, Florida, where she unveiled her all new 2012 club show. Alex will also be featured as an opening act on July 26th at the WBLS Summer Stage show in New York City as part of her summer tour. She is also currently working on her next album, scheduled for release early Fall 2012. "I'm really excited about the new direction I'm pushing for my album. A funky electro-pop sound that's gonna make you wanna jump up and do that dance!"
Alex's love of music and strong work ethic, coupled with A-list production teams and choreography is a proven formula for success. In addition to her new music, she is also focusing her time on her new fashion line, "A Young Rose", which she recently launched as a participating e-tailer at Fashion's Night Out during New York Fashion Week 2012.This created a great "buzz" as the blogs were calling her one of the top ten best dressed at the tents.