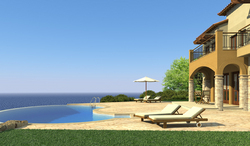 The launch will show guests an expression of the incomparable Aphrodite Hills lifestyle making it the only place to live in Cyprus.
(PRWeb UK) September 28, 2010
Select Resorts (international associate of Savills), confirmed this week that it will hold an Overseas Real Estate launch event on October 7th at the Westbury Gallery in Mayfair, London, for Aphrodite Hills to introduce the luxurious Cyprus Real Estate development, Alexander Heights.
Select Resorts and Aphrodite Hills is a partnership between two iconic brands with a shared passion for creating exclusive living for affluent clients around the world.
Guests can join Select Resorts and Aphrodite Hills for champagne, cocktails & canapés at the launch of this exclusive and luxurious residential village from 6.30PM—9.00PM. Exclusive to attendees only the October event will offer fantastic special launch night offers to promote the very best in luxury real estate.
With a limited number of tickets still available, the public are advised to RSVP before the event reaches maximum capacity by phoning Select Resorts on 0845 505 6061.
"We're working with Aphrodite Hills to take luxury and Cyprus real estate to a new level," said Pauline Bonanni Select Resorts' Director. "The launch will show guests an expression of the incomparable Aphrodite Hills lifestyle making it the only place to live in Cyprus."
Savills Select Resorts has been recognised as a leader in the marketing of distinctive and luxury overseas properties, committed to high performance, professionalism, and quality service.
The Alexander Heights development takes the five star resort living at Aphrodite Hills to a whole new level with incomparable luxury, privacy and uninterrupted, horizon-wide Mediterranean views. With only 69 exceptional properties being developed, exclusivity is assured and whichever property buyers choose, they can be confident of the very highest standards of building and specification.
In designing this luxury Cyprus real estate development the architects have taken inspiration from the traditional village architecture of Cyprus and reinterpreted it for contemporary living in truly luxurious detached villas, spacious semi-detached junior villas and stylish apartments.
The Cyprus real estate at Alexander Heights comprises of 21 luxurious detached villas, 16 spacious semi-detached junior villas and 32 stylish apartments.
Construction of Alexander Heights is expected to be completed by 2012, it has been announced, and the cost of becoming a proud owner at this exclusive development in a premier award winning and fully integrated leisure, golf and resort ranges from €594,000 to €2,880,000.
Further information on individual property types and the latest brochure of the development can be found on the Alexander Heights Website (http://www.AlexanderHeights.co.uk).
About Savills Select Resorts
As well as having advised clients for over 25 years on where and what to buy, Savills Select Resorts also offer its developers an array of powerful marketing solutions: networking conferences each year, discounts in national publications and newspapers, web design and development, Referrals, social networking, Marketing Tools and more!
Aphrodite Hills provides unparalleled property buying opportunities within the most prestigious 5-star luxury sports, leisure and real estate resort in the Mediterranean
Press Contacts:
Michael Reilly
Savills Select Resorts
01202 765 011
Select(at)Savills(dot)com
# # #