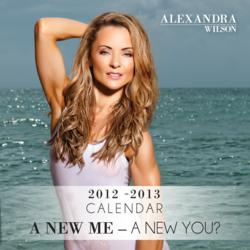 "My calendar theme is 'A New Me - A New You?' because I wanted to inspire my fans and followers around the globe to make 2012 the start of a new them." Alexandra Wilson
(PRWEB UK) 30 November 2011
Since becoming a bikini athlete, Alexandra Wilson has modelled for a number of celebrity photographers and these photographs can be seen in UK and international magazines, as well as on her own website and social networking sites. But until now, fans have not been able to see – or own – versions of the photos in print.
Alex said: "My calendar theme is 'A New Me - A New You?' because I wanted to inspire my fans and followers around the globe to make 2012 the start of a new them."
When asked where Alex got her inspiration from she replied: "I wanted to demonstrate my versatility as a model - that I can go beyond sportswear and the bikini. And that I can do more than the smiley face and pout. I also have come through a lot of transition and personal change these last few years and wanted to inspire others who are wanting to change or are facing personal challenges."
The calendar is available to buy from Alex's website http://www.alexandrawilson.com/shop for £15.99, and is the result of more than 100 hours worth of work. It took more than four months to complete, and contains 14 gorgeous looks, featuring photos of Alex in sports outfits, swimwear, and casual clothes, by photographers Paul Buceta (Oxygen, Muscle Mag, Curves) and Eva Simon (ex-model turned fitness celebrity photographer). The entire production took place in two locations; Miami south beach and in Paul Buceta's studio in Toronto.
Alex, originally from Northern Ireland, has rapidly attracted attention from the media, sports brands, and followers alike in the last few years. She has been featured in modelling shots in, and written articles for, a variety of magazines in the UK and abroad (Women's Fitness, Ultra Fit, Fit and Firm, ExtraFit and Fitnorama). She is one of the UK sponsored athletes for sports nutrition company Gaspari – a highly sought-after role in the fitness industry, and also the face of Biondi Couture's fitness competition range and Mark Anthony's new 'Body Trainer' exercise device.
Recently, international fitness celebrity Jennifer Nicole-Lee selected her to be one of the elite group of fitness models to accelerate their careers through her Fitness Model Factory, saying: "Alex is a future international fitness celebrity in the making."
Alex said: "I've been really touched by the comments and enquiries I've received about my photos from fans and supporters all over the world. With the launch of my new website, I felt it was a good time to offer followers the opportunity to own their own versions of the photos. But most of all, I hope it will inspire them to 'look, feel and be their best' throughout the years to come."
So if you need a little extra 'Alex motivation' every day, then make sure you order NOW your very own autographed and personalised calendar at http://www.alexandrawilson.com/shop
For more information, visit:
Alex's Twitter: http://www.twitter.com/TheAlexWilson
Alex's Facebook: https://www.facebook.com/pages/Alexandra-Wilson-Fitness-Celebrity/194488277270458
Alex's YouTube Channel: http://www.youtube.com/user/WilsonAlexandra
###