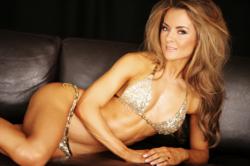 This programme is the FIRST of its kind. Why? It's BESPOKE not a one size fits all. You also speak regularly to a real person ie ME ! to keep you motivated, accountable, give you support and above all the bikini body YOU deserve. Alexandra Wilson
(PRWEB UK) 31 July 2012
Over the last ten years, Alexandra Wilson has helped personal training clients achieve all sorts of goals – from climbing Kilimanjaro to dropping three dress sizes. This new bikini body coaching programme will enable Alex to extend her services to clients all over the world, and will be tailored around the lifestyle and preferences of each person. Both six-month, and 90-day fast-track options will be available.
Alex says: "Many of my clients need the flexibility of a telephone and online coaching programme: they can't be in a particular place at a particular time for their training, they live all around the UK and abroad, and often travel a lot. Yet many feel that a 'one-size-fits-all' online programme won't get them the results they want."
Alex continues "They worry they won't stick to it, because it doesn't take into account their particular lifestyle, likes, dislikes and challenges. Now, I can help them to look, feel, and be their best wherever they are, with tailored programmes that fit around their lives."
Alex is a fully qualified personal trainer with a wealth of experience in the industry, creating all-round personalised fitness plans to help her clients to accomplish their health and fitness targets safely and effectively. The Bikini Body Coaching Programme is adapted to each individual, but includes:

detailed analysis of current fitness and lifestyle
weekly telephone, Skype and online coaching consultations
a tailored fitness programme, regularly updated
a tailored nutrition programme, recipe pack and shopping list
a package of tools & guidance - personalised video demonstrations and fact-sheets
access to Alex on speed dial for queries and advice
Alex, originally from Northern Ireland, has rapidly attracted attention from the media, sports brands, and followers alike in the last few years. She has been featured in modelling shots in, and written articles for, a variety of magazines in the UK and abroad (Women's Fitness, Ultra Fit, Fit and Firm, ExtraFit and Fitnorama). She is the face of Biondi Couture's fitness competition range and Mark Anthony's new 'Body Trainer' exercise device.
To be among the first to receive full details of the programme when it launches, visit http://www.alexandrawilson.com and sign up for the free newsletter. You can also follow Alex on the following networks:
Alex's Facebook: https://www.facebook.com/pages/Alexandra-Wilson-Fitness-Celebrity/194488277270458
Alex's YouTube Channel: http://www.youtube.com/user/WilsonAlexandra
Alex's Twitter: http://www.twitter.com/thealexwilson
Alexandra Wilson Worldwide Ltd