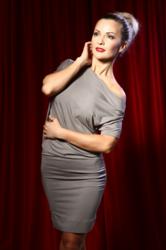 It was an amazing day, I learnt a lot, and I'll be able to share this with my clients – and improve my own photoshoots.
(PRWEB UK) 26 April 2013
Alexandra Wilson has experience of fitness modeling, but wanted to pick up some skills for modeling from fashion and catwalk experts, London School of Modelling. The school and model agency, run by no-nonsense principal Debbie King, trains models and sends the best off to castings for a wide variety of jobs, including TV commercials, magazine shoots, catwalk shows, modelling agencies and much more.
Alex travelled to London from her home in Cyprus and spent a day with the team at the school. She took part in catwalk and posing lessons, make up design, fashion advice sessions, and gained insider-info and industry tips.
Alex said of the experience: "It's been really helpful both for me, and for the clients I have who have interests in fitness modeling and/or bikini competitions. It was an amazing day, I learnt a lot, and I'll be able to share this with my clients – and improve my own photoshoots."
The ITV2 programme, Models Misfits and Mayhem, followed 12 aspiring models as they come through the doors for an intense and challenging model boot camp to discover if they've got what it takes to become a model, land a top modelling contract and possibly sign with one of the top modelling agencies.
About Alex
Alex is a fully qualified personal trainer with a wealth of experience in the industry, creating personalised fitness and nutrition plans and online coaching programmes to inspire and motivate people to look, feel and be their best. As well as being a Physique Elite Master Trainer, she is also a JNL (Jennifer Nicole-Lee) Master Fusion Trainer. She has been featured in modelling shots and written articles for a variety of magazines in the UK and abroad (Women's Fitness, Red, Ultra Fit, Fit and Firm, ExtraFit and Fitnorama). She is the face of Biondi Couture's fitness competition range and Mark Anthony's 'Body Trainer' exercise device, and the main partner in the UK and Europe for fitness media company BodyFX's new range of supplements.
To find out more about Alex, receive a free 'I will make you lean' e-book, sign up for her free e-news containing tips, advice and information and receive details of new programmes as they launch, visit: http://www.alexandrawilson.com.