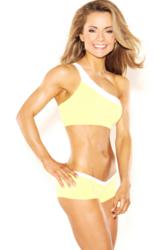 It's my mission to help people look, feel and be their best." Alexandra Wilson
(PRWEB UK) 24 November 2011
'I will make you lean' is a workout which is free to anyone signing up to Alexandra Wilson's emailing list via her website. It combines 'supersets' of powerful muscle-honing exercises combining bodyweight training, weight training as well as interval training to crank up the heart rate and boost the metabolism. When people follow the routine they will notice a marked difference in their fitness and physique – and so will everyone else!
The website contains information about Alex (including the story of her journey from 'Scrawny to brawny'); latest news and press releases; information about her coaching support and services for the media and companies; as well as a blog packed with free fitness advice. Fitness fans will soon also be able to access other services and support from Alex through the site, including online fitness coaching, fitness manuals, more e-books, and videos.
Alex, originally from Northern Ireland, has rapidly attracted attention from the media, sports brands, and followers alike in the last few years. She has been featured in modelling shots in, and written articles for, a variety of magazines in the UK and abroad (Women's Fitness, Ultra Fit, Fit and Firm, ExtraFit and Fitnorama).
She is one of the UK sponsored athletes for sports nutrition company Gaspari a highly sought after role in the fitness industry, and also the face of Biondi Couture's fitness competition range and Mark Anthony's new 'Body Trainer' exercise device.
Recently, international fitness celebrity Jennifer Nicole-Lee selected her to be one of the elite group of fitness models to accelerate their careers through her Fitness Model Factory, saying "Alex is a future international fitness celebrity in the making."
Alex is also a bikini athlete, having entered her first competition – Fitness America in Miami – in 2009 (coming in the top 10 out of hundreds of entrants in the Bikini category). Alex said: "I've been amazed by the interest and enquiries I've received from fans and supporters all over the world – people have been visiting my social networking sites in their thousands, and it's building, fast. I've realised people need one place where they can come to find all the news and advice they want to hear about from me. It's my mission to help people look, feel and be their best."
She continued: "It's our job here at Alexandra Wilson Worldwide Ltd to inspire, motivate, educate, and have fun with our global fitness friends around the world. This website is just the start of what's to come! Believe me you want to keep checking back as more gold nuggets of valuable information will be added throughout 2012."
For more information, visit:
Alex's Official Website: http://www.alexandrawilson.com
Alex's Facebook: https://www.facebook.com/pages/Alexandra-Wilson-Fitness-Celebrity/194488277270458
Alex's YouTube Channel: http://www.youtube.com/user/WilsonAlexandra
Alexandra Wilson Worldwide Ltd
The Counting House
Dunleavy Drive
Cardiff
Wales
CF11 OSN
###