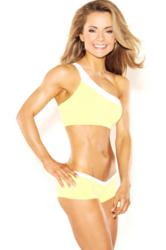 "Alex's smart, tried-and-tested programmes are supercharged, fat-burning, body-toning nuggets of gold." Jennifer Nicole-Lee
(PRWEB UK) 14 December 2011
'I will make you lean' is a free workout routine which is available to anyone signing up to Alex's emailing list via her website. The book contains a foreword by international fitness celebrity Jennifer Nicole-Lee, followed by a 50-minute, full body workout and advice on how to get the most out of the routine.
The easy-to-use workout comes complete with detailed descriptions, and pictures of Alex demonstrating each exercise – to ensure people get the most out of each part of the routine. The workout consists of 'supersets' of powerful muscle-honing exercises combining bodyweight training, and weight training, as well as interval training. Interval training is proven to be the most effective metabolism-boosting, fat-burning cardio training you can do. It creates 'afterburn', meaning that you carry on burning fat long after you've finished exercising.
Alex says: "My aim is to help people to look, feel and be their best. This programme delivers: when people follow this routine they will notice a marked difference in their fitness and physique – and so will everyone else!"
Jennifer Nicole-Lee says: 'Everyone's talking about Alex, and let me tell you, this girl delivers. Alex is JNL-approved – and I only work with the best. Alex's smart, tried-and-tested programmes are supercharged, fat-burning, body-toning nuggets of gold."
Alex, originally from Northern Ireland, has transformed her own physique from 'scrawny to brawny' in two stages: initially when she became a personal trainer, and then most dramatically two years ago, when she began competing in bikini competitions (see Alex's website for more information about her story 'from scrawny to brawny – my weight gain story').
Alex entered her first bikini competition – Fitness America in Miami in 2009, and managed to transform her body in the space of six months, from 'skinny but fit' to strong and lean. She came in the top 10 out of hundreds of entrants in the bikini division and third in her height category. Since then she's continued to compete as a bikini athlete, and has attracted attention from the media and sports brands alike. She is one of the UK sponsored athletes for sports nutrition company Gaspari a highly sought after role in the fitness industry, and also the face of Biondi Couture's fitness competition range and Mark Anthony's new 'Body Trainer' exercise device.
Alex's next publication will be a full 'I will make you lean' manual, containing more workouts and advice on how to lose fat and get lean. It will be available from her website along with her online fitness coaching services.
For more information, visit:
Alex's Official Website: http://www.alexandrawilson.com
Alex's Facebook: https://www.facebook.com/pages/Alexandra-Wilson-Fitness-Celebrity/194488277270458
Alex's YouTube Channel: http://www.youtube.com/user/WilsonAlexandra
Alex's Twitter: http://www.twitter.com/thealexwilson
###