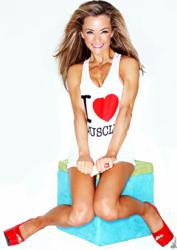 I was so excited to get home to start implementing what I learnt and taking my brand to the next level.
(PRWEB UK) 6 February 2013
Jennifer Nicole Lee (JNL) is one of the world's most highly sought-after super fitness models. She's graced over 41 magazine covers in less than five years, holds fitness titles such as Fitness America's Miss Bikini Diva (twice); has been featured on The Oprah Winfrey and the CBS Morning shows amongst others, and on the covers of countless fitness magazines – including Oxygen, Ironman, Status and Fitness RX.
She has a wealth of experience in developing fitness services and products, running more than 34 e-commerce websites and becoming an expert in online marketing. Her Digital Product Masterclass is aimed at successful fitness entrepreneurs who want to take their businesses to the next level by developing online products and services for their clients.
At the masterclass JNL revealed her trade secrets about e-books, e-programmes and online marketing, and introduced participants to her online marketing guru, 'Matt Man'.
Alex said: "My followers and clients are all interested in different aspects of my services. Some want e-books, and others want access to my specialist skills but in a more flexible way – with tailor-made, bespoke, programmes and support by telephone or Skype. I've started to develop programmes to respond to that need, such as my Elite Bikini Body Confidence Programme, and this masterclass has given me some great ideas for helping clients and followers to look, feel and be their best."
Alex went on to say "The course was jam packed with gold nuggets of information showing you how to monetise your website effectively, how to turn your laptop into a virtual ATM, how to make money whilst you sleep and all through the power of the internet, building your database, joint ventures and much more. I was so excited to get home to start implementing what I learnt and taking my brand to the next level."
About Alex
Alex is a fully qualified personal trainer with a wealth of experience in the industry, creating all-round personalised fitness plans to help her clients to accomplish their health and fitness targets safely and effectively.
Originally from Northern Ireland, she has rapidly attracted attention from the media, sports brands, and followers alike in the last few years. She has been featured in modelling shots in, and written articles for, a variety of magazines in the UK and abroad (Women's Fitness, Ultra Fit, Fit and Firm, ExtraFit and Fitnorama). She is the face of Biondi Couture's fitness competition range and Mark Anthony's new 'Body Trainer' exercise device.
To find out more about Alex and receive details of new programmes as they launch – and receive a free e-book, 'I will make you lean', and regular e-news with tips, advice and information, visit: http://www.alexandrawilson.com.
You can also follow Alex on the following networks:
Alex's Facebook: https://www.facebook.com/pages/Alexandra-Wilson-Fitness-Celebrity/194488277270458
Alex's YouTube Channel: http://www.youtube.com/user/WilsonAlexandra
Alex's Twitter: http://www.twitter.com/thealexwilson