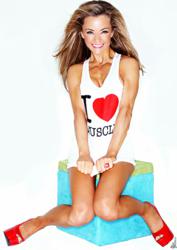 " I'm really excited to be launching the JNL Fusion method here in the UK and to start using it with my one-to-one training clients. Wait to you see the results ! " Alexandra Wilson
(PRWEB UK) 18 January 2012
Jennifer Nicole Lee's extreme at home and gym 'JNL Fusion' training is predicted to be the top fitness industry & coaching trend for 2012. 'JNL Fusion' is a training method that helps burn fat and tone lean muscle in under 45 minutes per workout. It uses the science behind 'super spiking', by weaving in bursts of cardio for 30 seconds in between weight training, so people get the best of both worlds: blasting fat and building muscle.
The method has five major components of what top fitness experts and forecasters believe are what people value most in an exercise program namely: rapid yet long lasting weight loss; strength training using lighter weights or own body weight; the ability to train in a small space; functionality - improving the ability to do every day activities; and highly informed and educated fitness professionals.
Each year, JNL hosts her Annual JNL Fusion World Conference in Miami, Florida, where top trainers are chosen to attend and work with her one on one. Alex travelled to Miami last week to train alongside these other top fitness professionals.
The JNL Fusion Management team led by Jennifer Nicole Lee is adamant about educating top elite Master Trainers. She certifies only a handful of personal trainers and fitness enthusiasts each year, making sure that she recruits the top Master Trainers in the world.
Alex was trained during the 'Fusion World Conference' by JNL herself, her VIP Celebrity Master Trainer 'Wicked' Willie Del Sol, and world-renowned fitness expert and top nutrition guru Unni Greene. 'Wicked' Willie has worked with JNL for over 5 years, preparing her for countless editorials and appearances including her last 10 magazine covers (Iron Man, Oxygen, Fitness RX, Muscular Development to name a few) and her achievement of Miss Bikini Diva World Champion two years in a row. Unni is a top nutrition and wellness expert who helped play a major role in many award winning athlete victories, including helping World Boxing Champion Glenn Johnson shed over 20 pounds helping him to win by KO in his last boxing match.
Alex says "My aim is to help people to look, feel and be their best and I'm constantly on the look out for new and innovative – but most importantly, results-focused – techniques. The JNL Fusion method is a fantastic, practical, portable, and super-charged, totally effective workout – I'm really excited to launch it in the UK and start using it with my one-to-one training clients."
To find out more about Alex visit her official website http://www.alexandrawilson.com. To contact Alex about her exclusive one-to-one 'JNL Fusion Training' (only available for a small number of clients), one-to-one fitness and nutrition consultancy, or other services (expert feature writing, modeling), email alex(at)alexandrawilson(dot)com or visit these social media sites:
Alex's Facebook: https://www.facebook.com/pages/Alexandra-Wilson-Fitness-Celebrity/194488277270458
Alex's YouTube Channel: http://www.youtube.com/user/WilsonAlexandra
Alex's Twitter: http://www.twitter.com/thealexwilson
###