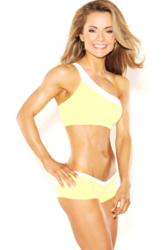 "My mission is to help you look, feel and be your best and this is exactly what my one to one coaching can deliver. I'm ready - are you?" Alexandra Wilson
(PRWEB UK) 26 March 2012
Over the last ten years, Alex has helped personal training clients achieve all sorts of goals – from climbing Kilimanjaro, getting lean to dropping three dress sizes. She decided to launch the telephone coaching service because more and more people were asking for specialist, tailored advice around their lifestyle, goals, and challenges, rather than just face-to-face personal training.
Alex said: "I've found that people want help and advice around their particular lifestyle: their training, nutrition, likes and dislikes, and the things they find challenging. Often people are confused by all the information available to them, and just want access to someone who can answer their questions, and give advice that's tailored just to them.
Also, many of my clients need flexibility: they can't be in a particular place at a particular time for their training, they live all around the UK and abroad, and often travel a lot. Now, I can help them wherever they are."
Alex is a fully qualified personal trainer with a wealth of experience in creating personalised training programmes, and fitness and nutrition plans, to help her clients to accomplish their health and fitness targets safely and effectively. The advice and coaching service can be adapted to each individual, but might involve:

a one-off telephone call - 30 or 60 minutes
a series of weekly or monthly telephone calls
discussing goals, fitness levels, lifestyle and preferences
answering fitness and nutrition queries
identifying the best exercises to target your worst offending areas
advising how to perform exercises effectively
advice on what to shop for, cook and eat
This move follows the launch of Alex's new website, her free 'I Will Make You Lean' e-book and 2012 'A new me, a new you?' calendar, and her announcement as the UK's first Jennifer Nicole-Lee–approved 'JNL Master Fusion' trainer. JNL said recently: "Watch out for Alex – she's a future international fitness celebrity in the making."
Alex, originally from Northern Ireland, has rapidly attracted attention from the media, sports brands, and followers alike in the last few years. She has been featured in modelling shots in, and written articles for, a variety of magazines in the UK and abroad (Women's Fitness, Ultra Fit, Fit and Firm, ExtraFit and Fitnorama).
She is one of the UK sponsored athletes for sports nutrition company Gaspari a highly sought-after role in the fitness industry, and also the face of Biondi Couture's fitness competition range and Mark Anthony's new 'Body Trainer' exercise device.
To find out more about Alex's one-to-one fitness and nutrition consultancy or other services (personal training, expert fitness writing, and fitness modelling) visit http://www.alexandrawilson.com or use the following social networks:
Alex's Facebook: https://www.facebook.com/pages/Alexandra-Wilson-Fitness-Celebrity/194488277270458
Alex's YouTube Channel: http://www.youtube.com/user/WilsonAlexandra
Alex's Twitter: http://www.twitter.com/thealexwilson
Alexandra Wilson Worldwide Ltd