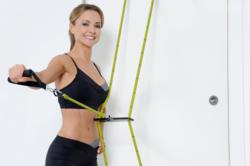 Alex has just the right personality and the physique to represent my brand. She's smart, great to work with, and like me, is focused on finding intelligent, effective methods for clients
(PRWEB UK) 23 December 2011
The Body Trainer, priced £39.99 will be available at http://markanthonysuk.com/ from 1st January 2012, is a home-based piece of exercise equipment that works the entire body, producing great results in muscle tone and weight loss. It comes with an exercise schedule and a precise formula for achieving great results in a short period of time, as well as ongoing, continuous improvement in fitness and tone. Alexandra Wilson was personally picked by Mark to model for both the packaging of the product and its demonstration leaflet.
Mark says: "Alex has just the right personality and the physique to represent my brand. She's smart, great to work with, and like me, is focused on finding intelligent, effective methods for clients to achieve the best results within the demands of their busy lifestyles."
Mark Anthony, also known as the 'Body Genius', is personal trainer to many high profile figures, from Hollywood actors to top musicians such as Billie Piper, Katie Price, Caroline Flack, and Lara Dutta.
He has a hugely successful book and DVD, Once a Week Workout, a globally-renowned fitness programme, 'Body Systems™' and a flagship Notting Hill club to his name.
Alex, originally from Northern Ireland, has rapidly attracted attention from the media, sports brands, and followers alike in the last few years. She has been featured in modelling shots in, and written articles for, a variety of magazines in the UK and abroad (Women's Fitness, Ultra Fit, Fit and Firm, ExtraFit and Fitnorama). She is one of the UK sponsored athletes for sports nutrition company Gaspari– a highly sought-after role in the fitness industry – and also the face of Biondi Couture's fitness competition range. More recently she published a free e-book 'I will make you lean' available from http://www.alexandrawilson.com.
For more about Mark Anthony and to order your 'Body Trainer', visit: http://www.markanthonysuk.com.
For more about Alexandra Wilson, visit:
Alex's Official Website: http://www.alexandrawilson.com
Alex's Facebook: https://www.facebook.com/pages/Alexandra-Wilson-Fitness-Celebrity/194488277270458
Alex's YouTube Channel: http://www.youtube.com/user/WilsonAlexandra
Alex's Twitter: http://www.twitter.com/thealexwilson
###