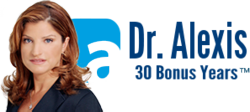 "Older people are more active and vibrant than ever before, responsible for 50% of all discretionary income and spending upwards of $3 trillion every year on consumer-related services." -- Alexis Abramson, Ph.D.
New York, NY (PRWEB) May 29, 2013
Gerontologist Alexis Abramson, Ph.D. has launched an exciting new initiative: The 30 Bonus Years™. Dr. Abramson is making available more than two decades of proprietary research, based on in-depth studies and live consumer interactions, about today's generation of Americans over the age of 50 – many of whom now have more "bonus" years to live than any previous generation.
"Thanks to technological and medical advances that have allowed us to age healthfully, look younger and work and participate in an active lifestyle, we are living well past the time most of our parents retired from their jobs and perhaps from life," states Dr. Abramson.
Access to information about how companies and consumers can best benefit from the 30 Bonus Years is now available on http://www.alexisabramson.com. The new website shares rich content for those who are already in the 50+ category, those who care for them and those who are marketing to them. Blogs, videos, research and relevant news will be posted on a regular basis, including a monthly Dr. Alexis Approved™ section where Dr. Alexis showcases new and innovative products that will benefit the 50+ audience. In addition, a new e-book, eponymously titled The 30 Bonus Years, will also be available on the site.
When the modern idea of the "golden years" of retirement was created in the mid-20th century, the average life expectancy was barely over 65 (at the turn of the century it was only 47!) and those who lived beyond it were often not fit enough to keep working or living independently. The current life expectancy of an American adult is nearing 80+. Within the next 20 years, there will be more than 80 million Americans living past the age of 65, well into their 80's, 90's and beyond – an unparalleled level. By 2040, the global population of those 65 and older is projected to number 1.3 billion, accounting for 14 percent of the world's population.
How will these "bonus years" be spent? Not just sitting in rocking chairs! As the leading industry expert for those over 50, Dr. Abramson is uniquely qualified to speak to the needs and issues of this growing demographic. "Older people are more active and vibrant than ever before, responsible for 50% of all discretionary income and spending upwards of $3 trillion every year on consumer-related services," states Abramson. "Businesses, foundations and agencies in a wide variety of industries including fashion, fitness, travel, healthcare, transportation, retail and real estate need to be prepared to offer the services demanded by this growing population who are already outspending other generations by an estimated $400 billion each year on consumer goods & services."
The 30 Bonus Years is not just an idea - it's a reality! People are living longer and are expecting more quality of life experiences. Dr. Abramson provides an important lens into our immediate future and the paradigm shift that is currently in process. Predictions of trends we will see during the 30 Bonus Years include:

Enhanced personalized medicine
Advanced technology incorporated into fitness regimes
Fashions for those over 50 actually being "fashionable and functional"
Non-traditional housing and real estate/livable communities
New job categories (for industries currently in development)
Increased globalization for travel and business
Increased "on demand" services: entertainment, healthcare, food
The new website provides insights and answers about how these, and other developments that she foresees, will cause major changes and significantly alter the perceptions of those 50 and older. Dr. Abramson is considered the most highly sought after source of information and resources as the world prepares for the growth and power of those experiencing The 30 Bonus Years™.
About Dr. Alexis Abramson
Alexis Abramson, Ph.D. is the leading industry expert for those over 50. Dr. Abramson, and her team work across a broad spectrum of industries including healthcare, consumer products, retail, technology, finance, real estate, travel & tourism, automotive, media, entertainment and fashion.
Dr. Abramson has worked with Humana, Kimberly Clark, Duracell, Walmart, sanofi-aventis, AARP, Phillips Electronics, Delta Airlines, Subway, Bank of Montreal, Equifax, Hearing Life, American Automobile Association, Century 21 and many other leading brands. She is an inspiring speaker, blogger, corporate consultant, author, spokesperson, award-winning entrepreneur and on-air expert. Her commitment to baby boomers, mature adults and caregivers has been featured in many national publications including TIME, Forbes, WSJ, Entrepreneur and People. She is an Emmy and Gracie award-winning journalist who has appeared frequently as an on-air expert gerontologist for NBC's Today show, CNN, CBS, MSNBC and numerous other media outlets. Abramson is also a popular blogger on various partner sites, including her regular blog on Huffington Post.
Dr. Abramson is the author of four highly regarded books, including "The Caregivers Survival Handbook", a guide to help caregivers balance the responsibilities of caring for others and for themselves. Dr. Abramson received her doctorate from the University of Southern California's Davis School of Gerontology. For more information about the 30 Bonus Years™, please visit http://www.alexisabramson.com. For news and events, follow us on Twitter, Facebook and LinkedIn or subscribe to our newsletter.