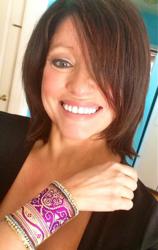 This bold cuff is all you need to make a statement. The fact that it re-purposes silk Sari fabric is a bonus.
Bridgewater, CT (PRWEB) April 02, 2013
Designer Alexis Gopal, owner of East Coast jewelry line Alexis Gopal Jewelry (http://www.alexisgopal.com), is on a mission to show that beautiful jewelry can be earth friendly too. Her 3-inch wide, adjustable "India Cuff Bracelet," made from recycled silk Sari fabric, will be included in a collaborative swag bag of green gifts being prepared by The Artisan Group for some of Hollywood's most eco-conscious celebrities. The gift bags will arrive in time for Earth Day on April 22 to Hayden Panettiere, Rachel McAdams, Edward Norton, Adrian Grenier, Emily VanCamp, Julia Louis-Dreyfus, Leonardo DiCaprio and Kate Bosworth, among many others.
Watch an Alexis Gopal Jewelry video.
The India Cuff Bracelet is a less elaborate version of Gopal's popular Wonder Woman Cuffs, ornately beaded statement bracelets that are a staple of the Alexis Gopal Jewelry line. "These bold cuffs are all you need to make a statement and are perfect with a black sheath dress for work. They also transition beautifully for evening."
For the gift bags, Gopal designed and handcrafted 30 cuffs, each of which has a hand-sewn beaded edging finished with Swarovski Crystals. "The beauty and ethnicity of the recycled Sari fabric was the inspiration for this bracelet," remarked Gopal. "Making the cuffs was labor intensive, but I love that I'm re-purposing fabrics that would otherwise go to waste. I also wanted to bring attention to the fact that earth awareness is a global effort by contributing a cross-cultural piece."
Collectors from around the world appreciate Alexis Gopal Jewelry for its smart, elegant style; provocative lines; bold colors and heirloom quality. Others love the energy that seems to emanate from the carefully selected gemstones and crystals Gopal favors in her designs. Some wear Gopal's inspirational pieces as a kind of talisman.
This last does not come as a surprise to Gopal, a former physician who is driven to create jewelry by her desire to empower women. "I believe that healing comes not only in medical terms but also in the symbolism of the adornments we select and the emotions they evoke in us," said Gopal. "For me, beautiful objects symbolize a brighter tomorrow. I want my jewelry to have that significance for women; to act as a touchstone of sorts."
In addition to being part of the 2013 Earth Day Gift Bag, Alexis Gopal Jewelry has been showcased on display and included in GBK's celebrity swag bags for the 2012 Golden Globe Awards, the 2012 Oscars and the 2012 MTV Movie Awards. Gopal has gifted custom jewelry designs to Ginnifer Goodwin, Rachael Ray and Paula Abdul and the jewelry has been photographed on Penelope Anne Miller. The line has also been showcased at the 2012 Elle Style360 Accessory Lounge at New York Fashion Week.
Alexis Gopal Jewelry is available at ANIK Jewelry on Madison Avenue in New York City, NY; The Silo in New Milford, CT; and Tangies in Seymour, CT. The entire Alexis Gopal Jewelry line, including the Wonder Woman Cuff, is available online at http://www.alexisgopal.com.
To learn more about Alexis Gopal Jewelry, visit http://www.alexisgopal.com and become a fan on Facebook (AlexisGopalJewelry) and Twitter (@alexisgopalj). Retail locations interested in carrying Alexis Gopal Jewelry designs can visit the website or contact Alexis Gopal directly at 855-9ALEXIS. For press inquiries about The Artisan Group, please visit http://www.theartisangroup.org.
About Alexis Gopal Jewelry
Alexis Gopal Jewelry, established in 2006, is a sole proprietorship owned and operated by designer Alexis Gopal M.D. Gopal began her venture into jewelry design early in life but optimized her creativity after electing to discontinue her practice of medicine. Clients include local and regional businesses, patrons of http://www.alexisgopal.com and celebrities.
Alexis Gopal Jewelry is a member of The Accessories Council, MJSA and The Artisan Group, a prestigious juried art promotions group representing talented artisans at Hollywood's best celebrity gift lounges.