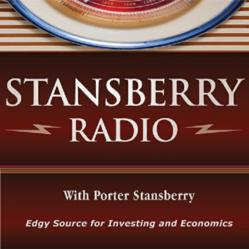 Jones suggested the current U.S. administration has a plan in place "designed to reduce us (American population) to absolute serfdom."
Baltimore, MD (PRWEB) January 21, 2013
Alex Jones went on record with Stansberry Radio last week describing the heated interview between himself and CNN's Piers Morgan that took place earlier this month. The interview, where Jones bashed Morgan, calling him a "red coat" was spawned by a White House petition started by Jones to have Morgan deported because of his public criticism of U.S. gun laws and the second amendment. The petition received over 100,000 signatures. The CNN interview became a highly-publicized phenomenon, trending on Twitter for two days and acquiring over five million views on YouTube.
On Stansberry Radio, Jones and host, Porter Stansberry, engaged in a friendly, spirited discussion about the current political environment of the United States, gun control laws and what each calls the socialist agenda of the United States government. Jones, who is consistently known in the mainstream media as a conservative and right-wing conspiracy theorist, discussed his views of the Obama administration stating, "their whole system is about control – they are walking us into a situation where each new 'fix' is bringing us into being absolutely poor." Jones suggested the current U.S. administration has a plan in place "designed to reduce us (American population) to absolute serfdom." Stansberry agreed in theory, stating that "first they take our guns, then they take our money, then they take your property and then they take your life." Listen to the full interview here.
After the interview, Stansberry said he believes the outcome Jones predicts is highly unlikely - but worth listening to. "Even if he's remotely right, it would do you some good to position yourself for the likelihood….make a game plan for disaster happening… I don't think any of those things are very likely, but we should be prepared for civil unrest. It will pay to be prepared for unlikely outcomes."
Stansberry is widely known for his controversial political opinions and mostly recognized for his End of America documentary. He has recently released a theory detailing his ideas on how Barack Obama will be elected for a third term as United States President.
The Stansberry Radio Network is becoming a required stop for financial experts, economists, politicians and the media. The show has been host to a wide variety of prominent names, including Lauren Lyster, Jeff Macke and Dinesh D'Souza, who created the hit documentary 2016: Obama's America. Other guests have included Libertarian Presidential nominee Gary Johnson, MSNBC host Chris Hayes, former U.S. Senator Byron Dorgan, publisher Steve Forbes, and renowned investors Jim Rogers and Marc Faber.
Stansberry Radio Network segments can be accessed at http://www.stansberryradio.com.
Stansberry Radio with Porter Stansberry is a top three investing podcast on iTunes, having more than 80,000 downloads and listens per month. New episodes release every Thursday afternoon.
About Alex Jones
Internationally recognized veteran broadcaster, documentary filmmaker, and investigative journalist Alex Jones has been featured as a prominent figure of the 9/11 Truth Movement in such publications as The New York Times, Vanity Fair, Rolling Stone Magazine and Popular Mechanics. He has appeared on Good Morning America, The View, 20/20 Downtown, 60 Minutes, The Discovery Channel, The History Channel, Fox News, CNN, TalkSport (UK), Russia Today, Channel 4 (UK), A&E, America's most widely listened to late night radio show, Coast to Coast AM, C-Span, and many other venues. Patrick Beech of the Austin-American Statesman has described Jones as "an absolutely riveting television presence."
Jones' mission is to re-ignite the spirit of 1776 and stand as an example of the fact that one man can build a vocal media platform without the aid of big corporate news networks that only serve to compromise and dilute the core message of freedom and liberty.
Jones began his career in Austin, Texas, with a live, call-in format cable access television program. In 1996, he hosted a show dubbed The Final Edition on KJFK, and the following year he debuted his first documentary, America Destroyed By Design. In 1999, he tied with Shannon Burke of KJFK 98.9FM for that year's "Best Austin Talk Radio Host" poll as voted by The Austin Chronicle readers.