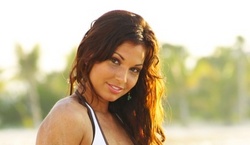 Says designer Michael Shettel, 'Melissa has a fabulous personality, and I am thrilled to work with her for her very special day. She is going to be a beautiful Alfred Angelo bride.'
Philadelphia, PA (PRWEB) December 2, 2009
Melissa Rycroft will walk down the aisle to wed Tye Strickland in an Alfred Angelo bridal gown. Melissa chose her wedding gown from the Alfred Angelo collection. Melissa selected her gown at the Alfred Angelo store in Frisco, TX and said of her bridal gown, "It was love at first sight. It was the first dress I saw and tried on, and I just knew. I love it!"
Rycroft burst onto the scene when she joined the cast of the thirteenth season of ABC's The Bachelor. Following The Bachelor, Melissa danced her way into America's hearts on the eighth season of ABC's Dancing with the Stars, where she finished third. Since the Summer of 2009, she has been a special correspondent for Good Morning America. On the October 22, 2009 bridal episode "Walking down the Aisle at Bridal Fashion Week", Melissa revealed to the nation that she chose Alfred Angelo for her wedding, and talked with designer Michael Shettel about the latest bridal trends during New York's Couture Bridal Fashion Week.
Says designer Michael Shettel, "Melissa's a beautiful woman, inside and out. She has a fabulous personality, and I am thrilled to work with her for her very special day. She is going to be a beautiful Alfred Angelo bride. I wish she and Tye all the best, and a life of happiness."
Rycroft's wedding party will also be dressed in gowns from the Alfred Angelo bridesmaid, special occasion and flower girl collections.
Want to know Melissa's gown style? Stay tuned for special coverage on Alfred Angelo's website.
About Alfred Angelo
Founded in the 1930s by Alfred Angelo Piccione and his wife, Edythe Piccione, Alfred Angelo is the world's leading maker of wedding gowns and bridesmaid dresses and is committed to providing beautiful, high-quality bridal and formal dresses at affordable prices. In addition to manufacturing dresses distributed in over 2500 wholesale stores worldwide, the company operates Alfred Angelo Bridal Stores located in Arizona, Arkansas, California, Florida, Louisiana, Maryland, Mississippi, Nevada, New Mexico, New York, Ohio, Oklahoma, Pennsylvania, Texas, and Washington.
For more information about Alfred Angelo, please visit http://www.alfredangelo.com.
###