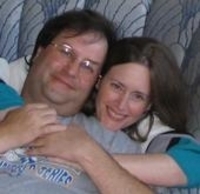 Working with Get Married TV and GetMarried.com was the perfect partnership for this Valentine's Wedding Day special.
Philadelphia, PA (PRWEB) January 29, 2009
Alfred Angelo and Lifetime's Get Married TV are proud to announce the winner of the 2009 Valentine's Day Wedding Dress Contest- Mary Scott and Joel Mack, of Kansas City, MO.
Alfred Angelo was thrilled to partner with Lifetime TV's GetMarried TV and GetMarried.com for a special multi-media national bridal contest, with Mary winning the Alfred Angelo Valentine's Day dress (pictured above) and her bridal party gowns. As an additional prize, GetMarried TV will provide coverage of the Valentine's Day wedding of Mary and Joel on a future episode of GetMarried TV.
Mary and Joel met on MySpace.com, when a mutual friend introduced them. Says Mary, "I think it was on our third date that it really sank in that Joel was just the right kind of man for me. He is respectful, attentive, patient, and loves me as the person I am. Fairly soon after that third date, I was able to tell him 'I love you.' The more we got to know each other, the more we began to think we were male and female versions of the same person, as if we shared a soul. We got engaged Spring of 2007, and we chose the wedding date of Valentine's Day 2009. When I first started planning, I wanted to stay very clear of the overt and obvious Valentine's Day theme because I thought the wedding might come off as tacky. Now that I have been mulling over ideas and making actual plans though, I have had a change of heart (pun intended) and the reception decor will be designed to recreate the feel of an elementary school class Valentine's party."
"Working with Get Married TV and GetMarried.com was the perfect partnership for this Valentine's Wedding Day special." Says Amanda Sheronas, Director of Public Relations for Alfred Angelo. "We are thrilled for Mary and Joel, and so happy to provide the dress of Mary's dreams for her very special wedding day. What better gift to give your loved one on Valentine's Day than the promise of your love for the rest of your life? We are so happy to be part of the celebration. We look forward to their spectacular Alfred Angelo Valentine's Day wedding in February."
Mary won the 2009 Valentine's Day Wedding Gown, from the best selling Alfred Angelo Dream in Color collection. The gown is made of lush ivory satin, accented in cherry red satin, with delicate silver metallic embroidery, intricate crystal beading, sequins and rhinestone detailing.
Mary's local Alfred Angelo bridal boutique, American Bridal and Tuxedo in Mission, KS, where she ordered her original Alfred Angelo gown (before knowing she won), assisted with expediting delivery of the Valentine's Day and bridal party gowns, as well as all alterations.
The contest launched July 15, 2008 on GetMarried/GetMarried.com, and ran through October 15, 2008. Engaged and soon-to-be engaged brides who planned to marry on Valentine's Day 2009 logged on to GetMarried.com to play the Alfred Angelo "Match The Bridesmaid Dress" game, where the brides tested their memory and speed by matching two identical bridal and/or bridesmaid gown images as they digitally turn over the "cards." Scoring was based on timing and accuracy. Mary was chosen as the bride with the highest score.
Mary and Joel will celebrate their union in the historic St. Mary's Episcopal Church in Kansas City, at 3:30pm.
In April 2009, Alfred Angelo will launch a second contest with GetMarried.com. Playing a similar game, engaged brides can try their luck at winning another beautiful Alfred Angelo wedding gown.
About Alfred Angelo
Founded in the 1930s by Alfred Angelo Piccione and his wife, Edythe Piccione, Alfred Angelo is the world's leading maker of wedding gowns and bridesmaid dresses and is committed to providing beautiful, high-quality bridal and formal dresses at affordable prices. In addition to manufacturing dresses distributed in over 2500 wholesale stores worldwide, the company operates Alfred Angelo Bridal Stores located in Florida, California, New York, Texas, Oklahoma, Pennsylvania, Maryland, Nevada, Louisiana, Arkansas, Arizona, Washington, Mississippi and Ohio.
http://www.alfredangelo.com
About Get Married TV and GetMarried.com
Get Married, a daily half-hour television series offering real news brides can use, airs on Lifetime Television five days a week at 7:30 AM ET/PT. Hosted by celebrity event designer Colin Cowie, Get Married is dedicated to providing smart ideas, emerging trends and insider tips to those betrothed. From extravagant fairytale receptions to getting started essentials, Get Married has the information that every bride should know from proposal to honeymoon and everything in between.
The affiliated website GetMarried.com features added content including video and interactive features plus all the resources needed for brides, bridesmaids, planners, parent and other seeking to maximize their once-in-a-lifetime experience.
http://www.getmarried.com
###